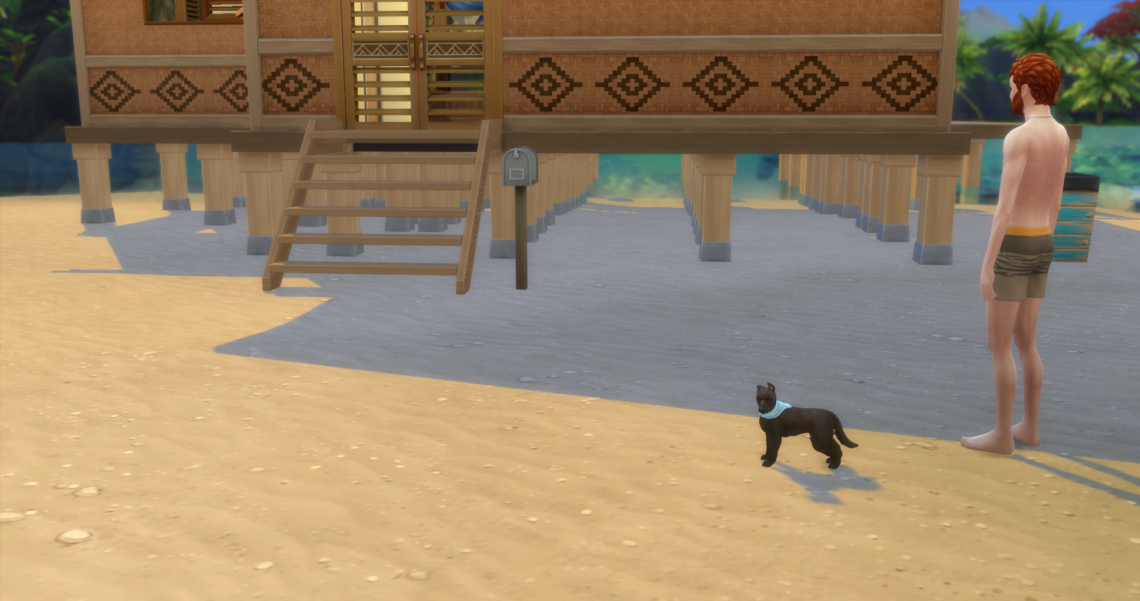 Finn and Bella are standing in front of an empty house in Ohan'ali. This is far from Finn's dream … but maybe in time he will like the place.
Naja cheers loudly and stretches her arms in the air …. She can hardly grasp her own luck.
Finn looks around the room. It is a large and fine house they have bought.
Now he goes out on the terrace to paint at the easel …. in time he might come to like living here.

Naja is cuddling Bella … imagine that we should achieve to live so nicely! …
….. With electricity, bathroom with clean water, bedrooms, and neighbors!
At the same time, the neighbors stand outside the door and as tradition dictates in Sulani, they bring kava with them.
Finn shows the house to the guests.
Shortly after, they gather around the large table with kava in the mugs.
Finn knows them all and never has he felt so comfortable in a group of people.
Only Bella hide fearfully under the sofa, frightened by the many loud voices.
Later, when Duane arrives, they enter Naja's room.
(I know Finn is a little weird Maria … but he's a good guy)
When the guests have left, Finn quickly falls asleep in his new bed.
With this we can state that it is not he who is lying in this bed