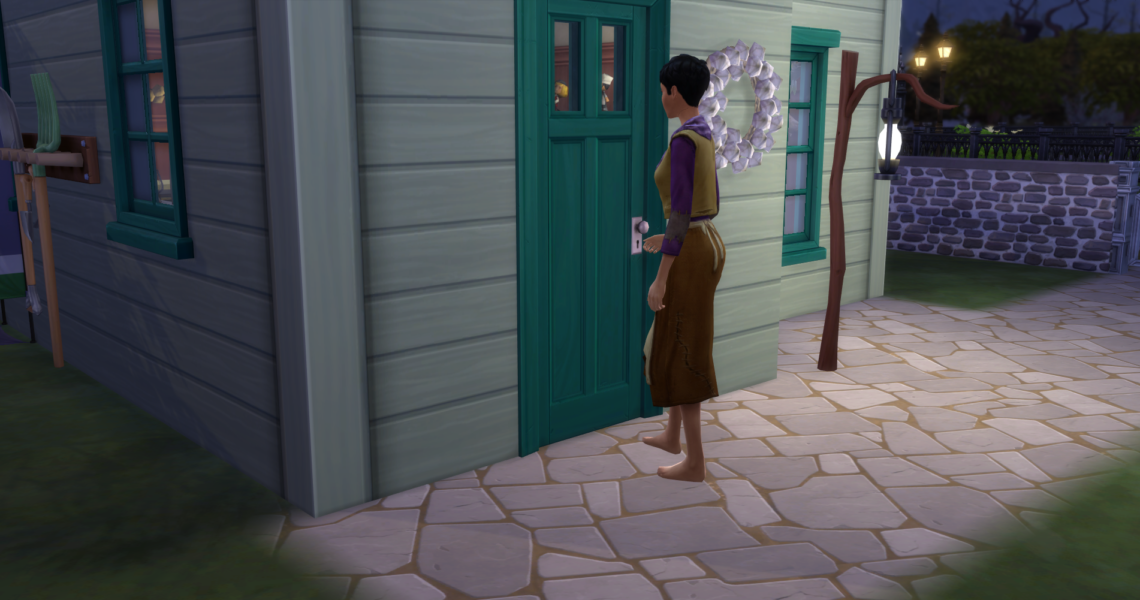 After the holiday and the meeting with Flora, Tusnelda continues her studies. She feels very inspired and encouraged to complete her education as an herbalist.
Trix tries to convince her that there are other important things in life as well …. such as cuddling her cat for example.
There is no doubt that Tusnelda loves Trix ….
… but now there is a garden that needs care.
Trix thinks rather Tusnelda should take care of other matters … like who delivers these mysterious letters and why? It smells scary.
Tusnelda, on the other hand, has other priorities.
She is just standing and admiring her crops when she gets an unexpected guest.
Flora! What a pleasant surprise!
Flora would like to see Tusnelda's garden. Unfortunately, Tusnelda will soon be at work, but she invites Flora inside.
Tusnelda takes a short nap to gather energy for a long night at work.
Flora has taken over the garden and she has started fertilizing the plants.
Trix has found a delicious feather duster in the garden.
He runs around the ground while holding on tight to his prey. It's nice to see him in his usual energetic vigor.
He suddenly stops breathless from the wild hunt … but nothing should make him give up his newfound prey.
He holds on to his trophy like a proud hunter.
Tusnelda has gotten out of bed to go to work.
It gets dark while Flora fertilizes the last plants.
For Trix, there is nothing to do but wait for Tusnelda and he soon falls into a deep sleep.
*****
Many hours later, Tusnelda returns from work.
Trix is still asleep when she wakes up from her sleep in the tent several hours later.
Or is it Tusnelda?
Trix looks startled at the unknown head when he wakes up …. there is something wrong….?
Trix shards at Tusnelda while she washes a couple of dirty bowls.
She smells weird … of chemical liquids and cheap perfume.
Tusnelda speaks to Trix. Can he really not recognize her?
Tusnelda has found her inner self-esteem and self-confidence and she wants to mark this with a visible change at the hairdresser.
The hairdresser? What a strange thing to do.
Human beings sometimes behave very strangely.
Fortunately, Tusnelda soon convinces Trix that it is only the hair she has changed.
They are interrupted by a light knock on the door.
To Tusnelda's surprise, Flora has returned. She is received with a heartfelt greeting.
Tusnelda invites her inside and suggests they sit by the campfire in the garden.
After the holidays in the woods, Tusnelda has set up her own campfire …. but she should probably train a little more in lighting a safe bonfire.
Ouch!
Flora warms herself by the fire while Tusnelda looks at her from a distance.
Flora might need some new clothes, but it seems like she does not care at all about that kind of exterior.
She seems so fulfilled by her task as the guardian of nature and exudes only kindness and harmony.
Tusnelda and Flora sit for a long time talking about herbs and their useful properties by the fire.
Tusnelda learns a recipe for natural fertilizer.
Finally, Flora gets up. There are some plants that need her care.
The plants seem like they are Flora's only focus in this life and she stands calmly and pours her magical magic dust over the herbs.
These plants are going to grow well regardless of the dark oppressive air in Forgotten Hollow.
Meanwhile, Tusnelda stands pouring her magic dust over dinner.
She has learned to spice up food to perfection and she has completed her cooking skills.
Tusnelda is having a great time with herself and while pouring the food up she comes to remember Trix … why does he not come and beg for the food as he usually does?
She finds Trix at the front door and he looks like he's seen a ghost.
Your little silly cat says Tusnelda as she soothes Trix with a hug.
Life is wonderful and full of unexpected pleasant surprises.
But perhaps Trix senses what Tusnelda does not see.
While one guest leaves the grounds, another silently stands waiting on the other side of the front door.
Life is full of unexpected guests, but not all guests may have good intentions.