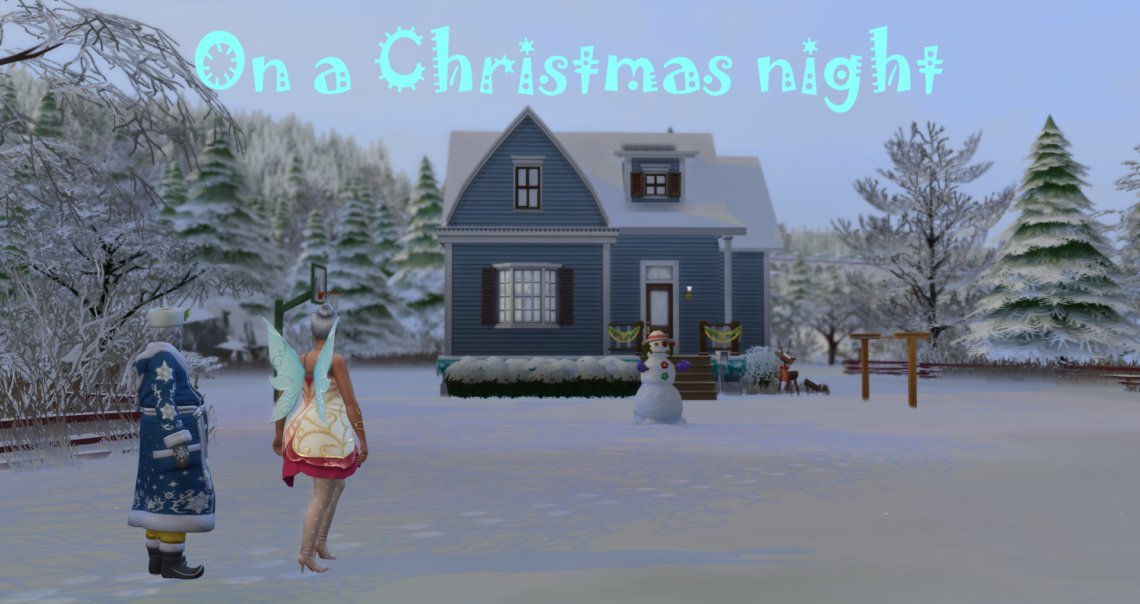 Christmas is approaching in this short story. In the world of reality, it is just over and the new year is fast approaching.
This is my New Year's greeting to all my readers. I am happy for the community we had in 2021 and I wish everyone a Happy New Year! …….Now to the end of the fairytale.
**❤**
It has been a lovely morning and Rasmus and Blue have gone for a walk together.
Now Rasmus puts the vegetarian nut pie, for tonight's Christmas dinner, in the oven.
"Ingredients like almonds, apples, dates, celeriac and thyme makes it a very tasty alternative to a traditional Christmas turkey." Rasmus explains to Blue. … now it just needs to bake in the oven for a few hours.
"That means we have plenty of time," Blue says giggling.
"Maybe we could ….?" Blue whispers.
"You need say no more. I totally agree." Rasmus answers
"We have still plenty of time…."
**❤**
Rasmus watches smiling Blue sleeping. He still can not quite understand that she lies there by his side every single night and they are now expecting their first child together! He's a very lucky guy.
He puts on his party clothes and sits down on the sofa.
He has no fireplace, so the television must provide the Christmas mood and the sound of crackling fire.
Blue is awake, hungry like a lioness. She is in her third trimester and the baby requires lots of energy, but Blue still looks so happy.
Rasmus is looking forward to meeting their child. To hold him or her in his arms for the first time.
**❤**
Rasmus makes the final preparations for dinner while Blue removes invisible stains.
"How are you?" Rasmus asks
At the same time, they hear someone at the door.
"I'm fine Big Man! … let me welcome the guests while you finish the food."
**❤**
"How nice to finally meet you, Blue, we've heard so much about you." says Tusnelda happily.
Blue thinks that Tusnelda and Martin are exactly as sympathetic as she has heard.
"The food is served!" shouts Rasmus.
Blue is already hungry again and she immediately grabs a plate.
Tusnelda gives Rasmus a big warm hug before she picks up the food.
"Have you heard I have received an award for being scientist of the year?" Tusnelda asks proudly
"Scientist of the Year? Really?" Rasmus asks in surprise.
"No, I have not heard, congratulations Tusnelda! …. What an impressive honor "
Blue looks with a smile at Silja who eats the food with great pleasure. She really is a charming little girl.
"It looks like nut pie is your favorite?" says Martin laughing to his little daughter.
"Yes, Dada!"
Blue starts dancing but she is interrupted by Rasmus … "Hey Blue, I have got a mistletoe!"
It brings back memories of their very first kiss. It was a long time ago now and it seems almost like it happened in a whole different world.
They are still very much in love with each other.
"Dada, dance?" Silja babbles
"I do not want to dance now, but you can dance." Martin replies kindly.
Silja dances while Martin goes to where she does not know, but her mum is still nearby. …"Look mummy!" Silja shouts happily.
"I can see you, Silja!" Tusnelda answers kindly.
**❤**
Everyone moves around a bit at random, but after all, Christmas is a completely unknown tradition for these Sims in Brindleton Bay.
Now some experts are approaching in the distance.
Magic gives herself plenty of time to enjoy the snow-covered landscape and she is accompanied by a very special friend.
Of course, Santa shows up. Christmas Eve is definitely a matter for Santa's, no matter what Magic may think.
Silja has found some gifts without help and luckily this gift seems to contain some toys for her.
"Kitty? Meow!"
When it comes to cats, Silja must be said to belong to the experts.
Now one senses a shadow outside the door.
"Oh! I sense the Christmas spirit … how nice!"
Martin and Tusnelda stand together by the Christmas tree.
"Can I hear Christmas carols?" says Santa cheerfully.
Maybe he did hear a Christmas carol, but right now the choir is taking a break.
Santa loves the spirit of this small group and he hurries into the cozy living room.
A little toddler hugs her toy and no one else seems to notice his arrival in the room…. before now.
"Dada!" Silja cheers
"Ho, ho, ho! What an adorable child!" Santa laughs.
**❤**
"I see you have brought some gifts, Nikolai? How wonderful! …… but completely superfluous…. Now it's time for a fairy to practice some magic."
While Magic and Santa discusses whether it is Santa or a fairy who is needed at Christmas and who should take over now, Blue has entered the living room.
"Why did you put on your coat?" Rasmus asks in astonishment.
"It's time Big Man. I'm going to the hospital." answers Blue
"Now dear friends, may I ask for everyone's attention! We should sing together for the appreciation of Christmas."
Everyone's eyes immediately turn to Magic.
I'm dreaming of a white Christmas
Just like the ones I used to know
Where the treetops glisten
and children listen
To hear sleigh bells in the snow
I'm dreaming of a white Christmas
With every Christmas card I write
May your days be merry and bright
And may all your Christmases be white
"You must go now my dear, I can see you are in pain!" says Magic as she catches sight of Blue.
Now it's time for her to practice her magic.
It's like Blues' words have not really sunk into Rasmus, so she leaves the party with heavy lonely steps.
Her child has chosen to be born now on a Christmas night.
Magic casts another spell.
"Blue! Wait for me!"
"Blue! I'm taking you to the hospital … wait !!!"
"May all your dreams ……..
…..come……
….. true!"
"NOOOO!!!!!!?"
She is gone…
What happened?
It all seemed so real?
The Christmas decorations and guests have disappeared…
….and so is Blue.
**❤**
"It was you!!! ….
You're some cursed rotten fairy!"
"You must disappear now, Nikolai, back to the magical realm.… He urgently needs to talk to a fairy."
"So, my dear lad … do not be discouraged."
"You must have confidence in your dreams will come true."
"Was it a boy or a girl? You didn't even let me see my own child!?" Rasmus asks desperately.
"How should I know? … I'm just a simple fairy who can make dreams come true … I can not see into the future?"
"But you showed me the most important thing … Your dream of marrying a beautiful wife and having a child."
"It takes time to fulfill dreams … and you must do your part too, lad"
"I have to go now, but I promise you that everything will come true in the end…. I am a worshipper of happy endings."
While Magic is getting ready to return to her own world, Rasmus returns to his bedroom.
Back to the place where he was before.
Everything and still nothing has changed.
**❤**
Back in the real Glimmerbrook
We should perhaps consider what is real here, but for Magic there is no doubt.…I guess she should know.
"I'm really busy Liva! if I have to reach it all …. the clock is ticking and they will all be here in a little moment."
"A real Christmas dinner requires a turkey …. Nut pie? Pfff! It's madness!"
**❤**
Ding thing! "The food is served!"
Soon the sages are gathered around the table. Everyone is curious to hear about Magic's journey.
It went fantastic!" Magic answers seriously. "Now I just have to write a fairy tale and I know exactly what's going to happen.…. at least as good as almost everything."
"You should eat some more Simeon! … there is still plenty left of the turkey." says Magic .. "you too Morgyn!"
While the sages pick up more food, another guest arrives.
"Oh! Nikolai my dear friend, just in time … how was your teleporting?"
"My teleportation's works perfectly. I actually reached all over the world several times." Santa answers cheerfully.
"I heard you say gifts are unnecessary. Then you might not want to receive this gift?" asks Santa teasingly.
"Of course I want it you old teasing gnome … Thank you Santa"! Magic replies, giving him a warm hug.
What else Santa has on his mind, it remains a secret between him and Magic.
**❤**
Now to the grand finale….
We wish you a merry Christmas
We wish you a merry Christmas
We wish you a merry Christmas and a happy new year
Good tidings we bring to you and your kin
We wish you a merry Christmas and a happy new year
With the end of this story, it's time to say goodbye to a very special fairy and her friends from the magical realm.
Is she a good fairy? I will let the readers judge.
Just an addition….
Of course, I'm not supposed to end a Christmas story with Rasmus returning in his hopeless void …. although Magic may be telling him a truth.
**❤**
Next morning in Brindleton Bay
Martin is sitting on the edge of the bed. He can hear Tusnelda in the bathroom.
He had the most incredible dream.
He has dreamed Tusnelda and he had a little daughter …. Just over there in the corner she had her bed.
Now, of course, there is just the bookcase who has always been there.
Tusnelda comes in from the bathroom and sits on the edge of the bed next to him.
That's how they sit for a long time preoccupied with each their thoughts.
"I've had a great dream Tusnelda … I saw our daughter, a dear little toddler." says Martin.
"I know it sounds weird … but I actually think I saw her too." Tusnelda replies
"You did ?" Martin asks in surprise.
"Yes, and I flew to a distant planet and won a scientific award!" Tusnelda continues excitedly.
"I will believe that," Martin replies.
They sit for a long time and look each other in the eyes.
"I think as long as we help each other then anything can be done!" Martin says lovingly.
"Maybe we could start fulfilling a dream right now?" Martin whispers.
Fiona looks at Martin and Tusnelda in surprise ….!?
They just got up and now they go to bed again? Humans are weird.
As Magic would say … Everyone must do their part to fulfill their dreams.
**❤**
Tusnelda and Martin are definitely doing their best.
Martin starts making breakfast while Tusnelda takes a shower.
Martin looks curiously at Tusnelda.
"What are you thinking?"
"Magic, the fairy … do you think there is such a thing as magic?"
"Nah!" Martin answers, but after a hesitation he continues….

"…. and maybe anyway? …. That's not all you can explain. Like when we two first saw each other in San Myshuno and we kept running into each other."
"I think it's a kind of miracle … something that was meant to be, ruled by something unknown."
"I think there's an explanation for most things … but right here I do not know." Tusnelda answers hesitantly.
After breakfast, Tusnelda does the dishes.
Then she sits down at the computer.
She is starting an online writing course. A dream has told her it will be a good investment.
Martin runs as usual on his treadmill.
He is considering investing in a climbing wall. He knows exactly where they have room for it.
Even though it is cloudy today, he is sure that the future draws light ahead. He has found new goals to meet.
**❤**
Just when Martin is going to work and Tusnelda is getting ready to go for a jog, Rasmus comes by.
He seems sad and discouraged and Tusnelda listens to his depressed thoughts.
It sounds like his dream has filled him with anything but joy.
"I dreamed of Blue. We were so happy together. We were expecting a baby and then I woke up just before the baby was born … It all seemed so real and then it was just a lie" Rasmus moans.
"Maybe the dream is trying to tell you something Rasmus?" says Tusnelda carefully.
"The dream does not have to be a lie, but I think you have to let Blue go …. She only gives you grief." she continues.
"I do not know how to let her go." says Rasmus
"I know it seems like you have to eat an elephant … it can only be done one bite at a time," Tusnelda replies.
"I'm here to support you and so is Martin … You will make it." says Tusnelda, "You will find love in the end!"
"Do you really think so?" Rasmus asks hopefully.
"I'm sure you will!" says Tusnelda, giving him a big warm hug.
**❤**
The end