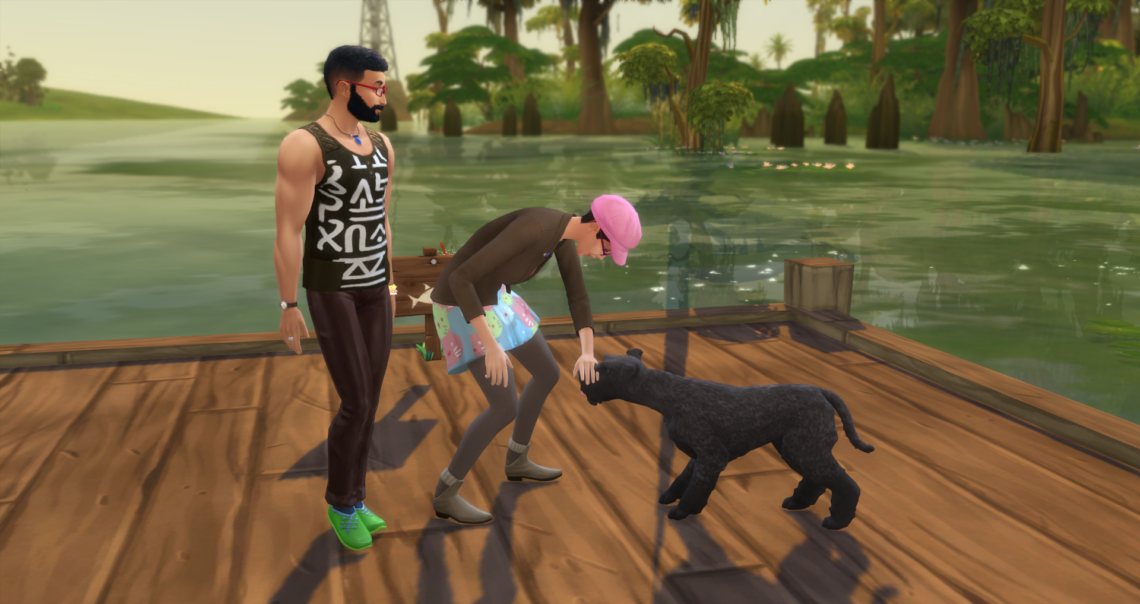 I am finally ready with another chapter of Tusnelda's story. I must warn against large amounts of cat spam, as Trix has once again become a father. Perhaps I should also warn against a hint of nudity… But the kittens are dressed in fur and should not cause any kind of outrage. They are just adorable.
In this chapter, Rasmus and Don return home to the demands of everyday life and Tusnelda and Martin try to adapt to their new reality, say, with a house full of cats.
*****
After midnight in Brindleton Bay
It is exactly 2:34 am when Tusnelda is awakened by a commotion in the bedroom.
"Who are you?" she exclaims in surprise.
She stares in amazement at a small kitten that unmistakably looks like Trix.
"Martin! Have you seen this!"
"I just spotted another one," he replies seriously.
Oh my… this will probably come across in terms of their attempts to have an offspring themselves, Tusnelda thinks worriedly.
"Aren't you the sweetest little thing?" says Martin.
Tusnelda is pretty hungry and now she's awake she might as well prepare some breakfast.
Martin is still standing as if paralyzed, staring at the kitten as he tries to wake up enough to understand what has happened.
They have clearly put off Fiona's sterilization for far too long.
Futte follows Tusnelda's movements with interest. Maybe she can grab a taste in an unguarded moment.
Her thoughts may be excused for the extended herd of cats has depleted the feeders' supply of food.
Fortunately, starvation is averted when Martin fills the containers with new supplies.
Despite the darkness, Tusnelda chooses to eat her breakfast outside.
Maybe she needs to reflect a little in private.
*****
"Hey sweetie! Maybe we should try to get some more sleep?" says Martin sleepily.
"Yes, let's sleep now and talk more tomorrow," she replies.
Fie looks at Tusnelda with wide appealing eyes as they enter the bedroom.
Her body language clearly shows that new siblings were not at the top of her wish list.
*****
All these thoughts the two new arrivals are completely unaware of.
They are full of zest for life and eager to take on their new world.
It all takes place in energetic running.
Soon the female kitten Mia is in the front followed by her brother Melvin.
He is just about to catch up to her when she surprisingly changes direction.
Fiona tries to keep track of her kittens at a slightly more leisurely pace.
"Have you two gotten into a fight?" she asks with an authoritative meow.
"No mom! Look we love each other," they purr in unison.
However, it quickly becomes too boring for Melvin. He has caught sight of Trix coming through the door.
He misses his attack and tumbles to the floor.
He prepares for another ambush, hiding behind the ironing board.
Attack!!
Failed again!… Trix avoids him in an elegant leap.
Melvin has to learn, unerring hunting techniques require a lot of practice.
However, this does not put off a little keen hunter and he eagerly runs on in search of new prey.
The next target looks a little more stationary. He takes a run for the jump…
… and lands exactly where there is access to food.
After a good meal he stretches out with relish.
Now his older sister Futte is coming by.
She is a sweet and loving sister who carefully washes his ears.
After a while, she gets tired of being a nanny.
Wow!? How did she do this?
Melvin looks at Futte in wonder when she lands on the kitchen table with a high jump.
Futte meows loudly. Maybe she has something to complain about?
Melvin falls asleep tired. He still has so much to learn.
*****
Morning at Rasmus's residence
Rasmus and Don have just arrived after their holiday in Sulani.
They give each other a huge hug. They are now best friends forever
"I've really enjoyed your company Don. You've been a really good travel partner." says Rasmus.
"The same for you Rasmus… although I can't always follow your penchant for splashing around in the water." Don chuckles.
"I feel so connected to the sea and maybe you can come back with me when one day I open my restaurant in Ohan'ali?"
Don feels some uneasiness when Rasmus mentions Ohan'ali. He has left quite a few disappointed women's hearts there…and something else.
"Yeah, maybe." he answers
After that, they go their separate ways.
Rasmus up the stairs to his empty house and Don home to Katrina's house in Oasis Springs.
"Bye Don!" Brooke says with a short meow.
Will she miss him?… Maybe, but now there are more important things in life.
Rasmus is just filling the feeders when she comes through the door.
"You're my favorite guy," she purrs happily.
Rasmus has had very little sleep the previous night and lies down on the bed to take a nap before he has to go to work tonight.
*****
Martin has just been interrupted in his morning training by Melvin's infant meow.
"Hey little guy. Are you lost?" he asks kindly.
Tusnelda watches them from a distance. This is a very unexpected surprise.
"Hey sweetie! What's on your mind?" Martin asks as he goes to meet her.
Futte has once again volunteered as a nanny and she gives Melvin some soothing fur care.
Mia watches her new family from a distance.
They seem nice enough despite being huge, so she boldly approaches.
"I was wondering if we could go on a trip when I get home from work?" says Tusnelda.
"Are you asking me out on a date?" replies Martin with a big smile. … "Yes, thank you sweetie! It will be an exquisite pleasure."
At that point, Mia has given up trying to make sense of the humans' strange conversation, so she runs back inside.
NB: I hereby promise that it is (almost) over with cat spam today. Other topics must come to light.
*****
Morning in Oasis Springs
Don is received by Katrina in front of her house.
"Hey Lover Boy, what took you so long!?… Did you run all the way home from Sulani?" Katrina says a little sullenly.
The next second she seems to have dropped her reservations,
Shortly after, they find themselves in the jacuzzi in the backyard.
"I've missed this magnificent body," she coos caressingly
Katrina is absolutely one of the sexiest women he knows.
Maybe it's the touch of her feminine body or the sound of the water splashing?…
He suddenly feels very dizzy and a vision tries to push through the fog.
He tries to fight it….It doesn't belong in this universe.
But he has no power to wipe it out.
"Damn it!" he shouts loudly.
"What!?" Katrina asks surprised
"I'm so sorry Katrina, but I can't… not now," he says stunned.
"I'm really sorry but I don't feel quite well," he says embarrassedly.
"Don't be ashamed Don! …you're not the first man to have been paralyzed in an intimate moment. You can safely leave the solutions to me," says Katrine confidently.
"Thank you, Katrina, for your understanding," Don gratefully replies.
At the same time, he thinks a little timidly about what solutions Katrina has in mind. …hopefully nothing involving a whip and handcuffs?
The latest thought sends him quickly out of the jacuzzi.
"I have to go to work Katrina. Unfortunately, I'm out of time"
*****
Whip and handcuffs?
It's absolutely insane…
As he is a criminal..
A petty villain awaiting his punishment…
"Don!?"
"DON!!!"
"Don! I've been calling you for several minutes… What's going on?" Katrina asks in wonder.
"Oh? Sorry Katrina. There's nothing…… nothing to worry about." he quickly replies.
*****
"Bye Katrina. See you tonight." he says.
"Bye Don! Don't take it too hard… I'm sure it's temporary." she says gently.
He really hopes she's right….
But he has actually starting to worry about his own mental health.
*****
At the secret lab
Meanwhile Tusnelda has just arrived at her work.
It's been a long time since we followed her.
I notice she chooses a back entrance today.
She immediately sits down at a computer.
I assume that she has quite a few scientific results that need to be registered and catalogued.
After the registration work is over, she moves on to the other department.
She goes to the Invention Constructor to update a Cloning Machine.
She works with concentration.
(NB: I can thank my large image archive for the fact that this Invention Constructor appears to be working flawlessly)
The Cloning Machine needs to be tested. First she clones plants and then crystals and serums.
I can see from Tusnelda's questioning look that both she and I find it boring with the endless repetitions.
She is experimenting with developing some new serums.
All in all it seems to bore her so she take an early lunch break.
The food from the vending machine is not very encouraging either.
*****
After her break, she harvests some plants.
She goes into the front office to greet Masato. He seems to be in excellent spirits.
She feels spurred on to praise his work effort, which he receives with some wonder.
Later, Simon joins the conversation.
All in all, it's a relaxed, pleasant day at the office.
Martin is at home today, so since she has completed all work tasks anyway, she decides to take an early day off.
*****
Although she has gone home early, she has received a promotion. She has reached the pinnacle of her career with a promotion to Extraterrestrial Explorer.
Well done Tusnelda!
She can hear the sound of the TV. Martin is preparing for a soccer match by analyzing the opposing team.
He quickly jumps out of the sofa when Tusnelda enters the door.
"Tusnelda! You are already home?"
"I'll take a shower and then we can go on our excursion together afterwards." she says.
*****
Noon at Rasmus's residence
Rasmus has left the bed and he has spent a few hours presenting beach shells and photos from Sulani.
Now he is enjoying his work and not least his photographs of the beautiful Sulani sunset.
He really hopes he can return one day. Open a restaurant and settle down.
He looks around the room. He already misses Don's presence.
He has really enjoyed their friendship and the life he brought with him, although he has a hard time understanding his rootless flinging around from woman to woman.
His thoughts are interrupted by Brooke's insistent meow.
"Maybe you need some company too?" he says as he combs her fur.
Brooke reciprocates his grooming with some friendly tongue licks.
Brooke really appreciates the unexpected attention she gets from Rasmus.
If Rasmus still were in Sulani, he would go down to the bay to swim. Instead, he chooses to go for a walk.
The weather is lovely and the sky is clear blue without a cloud.
Maybe he should see if Tusnelda and Martin are home.
*****
Tusnelda has just finished her bath when the water pipe leaks. She fixes it quickly.
When she enters the kitchen, she spots Rasmus through the window.
"Rasmus is that you?"
"Welcome home! I've missed you." says Tusnelda and gives him a big hug.
"Thanks Tusnelda. I've missed you too."
"Come inside Rasmus…Martin will love to see you!…Have you eaten? We can make some lunch." says Tusnelda eagerly.
She feels a little guilty that Martin is once again in the second row, but Rasmus looks so happy and she has really missed him.
Tusnelda immediately starts cooking.
Rasmus enjoys being in her home again and he looks at her thoughtfully. She has really lost weight while he has been gone.
Then he helps her with the cooking.
Rasmus really loves to cook.
It dawns on him that he hasn't seen the shadow of Martin.
He lets Tusnelda put the finishing touches on the lunch dish and goes to check on him……. Then his gaze catches something out of the corner of his eye.
"You've got kittens!" he shouts excitedly.
"Don't scare the kids!" Fiona hisses.
"Yes, we have had some small surprises," Tusnelda replies seriously.
"Do you intend to keep them?" Rasmus asks.
"They are still small and they need their mother, so for now they will stay here," Tusnelda replies.
"My compliment to the chefs!" exclaims Martin, who has finally joined the company.
"How was your holiday? You must tell us all about it." says Tusnelda eagerly.
Here my date disappears like dew disappears in the sun, Martin thinks resignedly while Rasmus starts to tell.
"In Sulani, the water and sky are more clear and blue than anywhere else in the world."
"It is my dream to settle there. Open a restaurant and snorkel and dive in my spare time."
"I've never seen more beautiful sunsets than in Sulani. Everything is covered in gold" Rasmus sighs.
Rasmus is interrupted in his story when he hears Tusnelda scolding the cats.
He notices that Martin has disappeared.
"I say thank you for food…I guess I better go." he says.
"I'm sorry we're not very present Rasmus, but Tusnelda and I are on our way out the door…. maybe we can meet tomorrow?" Martin apologizes.
"Yeah, that's ok. I have to go to work soon anyway." replies Rasmus.
It is not because Martin has not missed Rasmus, but he has really been looking forward to going on an excursion with Tusnelda.
Was it selfish of him to stick with it?
*****
Half an hour later in Magnolia Promenade
Tusnelda and Martin have landed outside Tusnelda's shop, but today they are not going to the shop.
Maybe Tusnelda should hire some staff, because she rarely has time to keep it open. The plants gradually look somewhat neglected.
They go down towards the harbor and on to a pier.
"This place is really beautiful!" exclaims Martin.
"It is also one of the best fishing spots when it comes to rare catches," says Tusnelda.
Martin doesn't answer. He seems engrossed in nature right now.
They find their fishing rods and start fishing.
They don't exchange many words, but just stand together in silence, enjoying each other's presence.
Suddenly Tusnelda hears someone whining.
"Hey Doggy! What are you doing here?" she says in surprise.
"Are you hungry?… Here's a treat."
"You are such a sweet dog…. Are you still looking for your forever home?"
Strangely enough, Martin does not seem to be disturbed by the fact that Tusnelda has stopped fishing.
"Do you want to play?" Tusnelda asks.
Tusnelda sends the ball off with a long throw, but the dog looks at it confused.
Apparently no one taught her how to retrieve a ball.
"It's a ball and you're supposed to pick it up," says Tusnelda.
After a few more tries, Tusnelda gives up on that game. It requires more getting used to.
"woof, woof, woof!" the dog barks
It is only at this moment that Martin discovers what is going on behind his back.
"What is happening here?" he asks.
"That's the dog I told you about." replies Tusnelda.
"She's such a sweet dog and I think she's homeless…. maybe we could…?"
"Absolutely not! …..We already have six cats so at this point we have a full house." Martin interrupts firmly.
Right now the sun is going down behind the treetops.
The color of the sky has changed from blue to peach red. Perhaps this is not covered in gold as Rasmus described Sulani's sunset, but the sight is still breathtakingly beautiful.
They stand together in silence, taking in the unique sight.
"I know we have a lot of cats but…" Tusnelda begins.
Martin chooses to shut her up in a loving way.
"…but, I'm not a dog person." he says.
*****
I am just about to send them home when Martin independently finds his guitar.
He looks so confident and comfortable.
Tusnelda seems a little sad, but I wonder if she agrees with him when it comes down to it? Somehow she has just lost her heart to the dog and she doesn't like to think that she is alone in the world.
"This is so romantic… Now all we need is a bonfire." she says.
*****
Late night in Sulani
Delphine has returned late to Ohan'ali after collecting some water samples on the other side of the islands.
She therefore chooses to buy a meal at a food stall.
She settles down near the Sand bar to eat while she lets her thoughts flow.
She thinks about the recent festival on the beach. She and some neighbors were gathered around a bonfire.
Sulani has quite a few festivals. When the turtle hatchlings start their journey towards the sea or the fish gather in the bay to breed.
There is often a reason to celebrate life.
He had suddenly appeared out of the darkness.
He stopped a little outside the group of locals to watch the fire. Then he had started dancing a fire dance.
He seemed to love showing off, and he really had no reason to hide either.
He looked like a god and she couldn't take her eyes off him.
She had to meet him.
"Hey you look really good!.. I mean you dance really well." she said.
"Thank you" he replied seriously, without the cocky undertone she usually heard from men.
She was almost sucked into his beautiful sea green eyes and for lack of words she gave him a flower.
He looked almost shocked, as he was not used to this gesture.
"Thank you!" he replied blushing.
"You deserve it," she replied in a whisper. Enchanted by the gentle loving soul she saw beneath his tough masculine armor.
They had been standing there locked in each other's eyes for endless times.
She was sure she had finally found her soulmate and she immediately fell in love with him without reservations.
It was their first meeting… How could she be so wrong? How could he be so scared?
It's too stupid to hang on to a finished chapter. She is sure that he no longer gives her a single thought.
*****
Midnight in Brindleton Bay
It is past midnight when Rasmus comes home from work.
He is tired. It has been hard to return to the daily routine.
He stops in front of the pictures of Sulani's sunset.
He will have to work hard if he is ever going to be able to fulfill his dream of opening a restaurant in Ohan'ali.
He hears Brooke calling.
"Hey sweet girl, have you missed me?"
He turns on rebroadcasts of today's cooking competition while he cuddles with Brooke.
He has found a goal and it requires him to develop his skills to their maximum.
*****
In the house next door, Tusnelda and Martin have just returned from their excursion.
Of course they light a fire.
"There is no more perfect end to a perfect day." says Martin.
Sitting and cuddling with your loved one by a fire.
"I'm sorry I can't share your excitement about the dog," he says gently.
"It's ok Martin… I don't know why this particular dog is talking to me," she says.
Cohesion does not mean that they must agree on everything and they still have an ability to meet each other with great love.
*****
Tusnelda is very tired and she suddenly goes to bed.
Martin plays his guitar as the fire burns out.
He is a loner, but never lonely because he carries the certainty that he is loved in his heart.
I wish it was true for everyone in this story.
*****