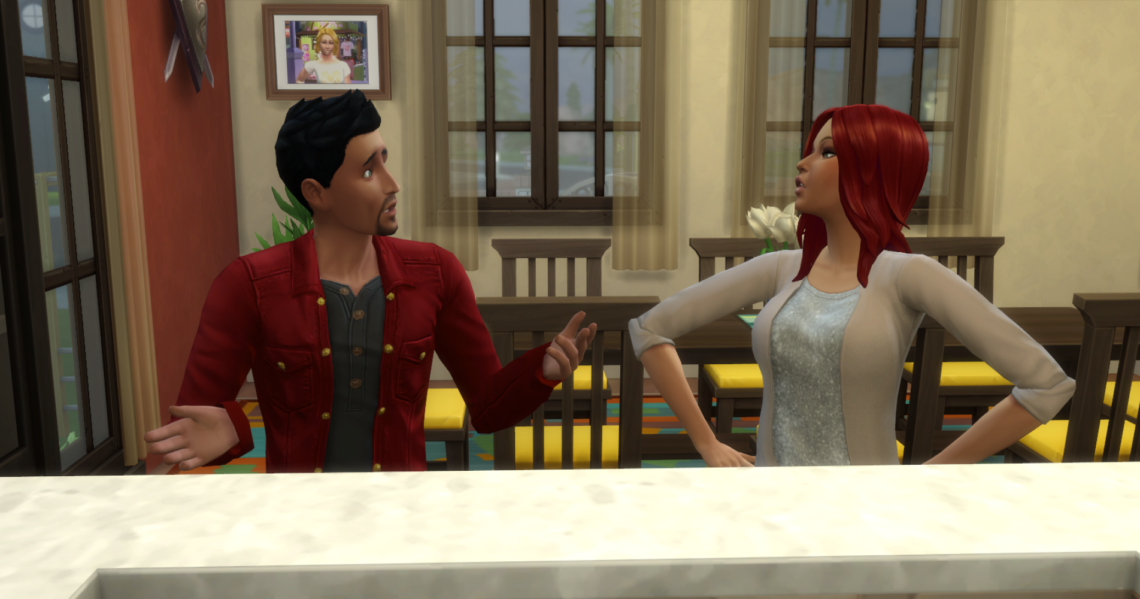 82. This may be a fork in the road
In today's episode, I take several of the men in the story under loving care – some of them in an ironic sense. Female cunning contributes to the fact that some truths can no longer be kept hidden. The choice is whether you want to stand up for yourself or hide.
Thoughts about offspring are mentioned in some sections, which is the reason why Tusnelda and Martin do not appear in this chapter. I think they deserve some peace.
Instead, Don is back in the spotlight. As I hinted in the last chapter, Don soon faces a fateful challenge and an important choice.
*****
Just after midnight in Oasis Springs
Well, let's jump right into it and pick up where we left off.
Don has now left the chess game to find some leftover food in the fridge.
He finds Katrina and Nina in the kitchen.
"Hey Don! How was your day? Hopefully you haven't done anything to be ashamed of?" says Katrina.
"No of course not. What makes you ask me that question?"
"Oh, I know you Don. You're a dumb boy and dumb boys do stupid things," she replies.
"Well, I can reassure you that I visited Rasmus today….you know the guy I traveled to Sulani with almost a year ago." Don quickly replies.
"I'm not sure that reassures me. I very well remember your state when you came back home. It almost seemed like you were paralyzed with a guilty conscience?" she says.
"Well that? I thought we got it over with?" Don says quietly.
"Yes, perhaps. You seem to have regained your condition, so…"
"You have no reason to worry about Rasmus, Katrina…. He's a total weirdo who swears he's found the love of his life and today he and his wife-to-be celebrated a baby shower…..If you're going to talk about he has a single bias, it's that he knocked her up before holy matrimony," Don rants, before she can complete her sentence.
"He sounds like a decent guy, your friend?" Katrina says kindly.
"Yes I assume so." Don says, unsure of where Katrina is headed now.
"You said Baby Shower?" she continues.
"Yeah you know. It's some kind of party where you gather friends to celebrate the upcoming baby." Don tries to explain.
"I know about baby showers Don, and I've actually been thinking for a long time that we should have a baby. You know I'm not getting any younger so it's about time" she says eagerly.
"What!?" gasps Don.
"NO!" says Don in shock.
"What do you mean no?" Katrina replies grimly
We are not going to have a child together. I'm not at all the fatherly type. They call me the womanizer all over town." wails Don.
"Pfft! Look at you. Such a whiny child. You should try to grow up, Don." she says.
"But Katrina, be sensible…. You and me? We are not cut out to be parents."
"You know what Don. I've turned a blind eye to your escapades for years and you won't give me this one little thing! You should show me some gratitude" she says and throws her arm out in disapproval.
"We're talking about a child Katrina, that's no small thing." Don says, slapping his forehead.
"I know what we are talking about!" she hiss.
Don buries his face in his hand. How the hell did he suddenly end up here?
Katrina seems to be lost in her own angry mind.
"Please Katrina. Try to think about it and listen to what you're saying. Listen to how pointless it sounds ." he says resignedly.
"I'm perfectly capable of thinking, and if you were capable of thinking with anything else than that little brain hidden down there between your legs, things would probably look very different!" she mockingly replies.
"What the hell!?" he replies, taken aback.
"You know I'm right Don! That thing has ruled your life for far too long." she says.
"Please Katrina. That's not the topic here. We're talking about a child." Don says.
It could look like Don knows that Katrina has caught him in a sore spot.
On the other hand, Don shows precisely in this situation that he is able to use the brain in his head and he is able to take an independent stand.
"It's not going to happen Katrina. I don't want to be a father. I'm not good for kids." he says firmly.
He can see the disappointment on her face but this time he doesn't let himself soften.
However, he still tries to show her some care.
"Hey Katrina. If you really think about it, do you want to be tied up in diapers and crying babies for the next several years? You just got off to a good start in your career and…" he begins.
"Shut up about my career. It's none of your business!" she says angrily.
"I'm a woman and I'm made to bear children, but that's something stupid men can't understand." she concludes angrily.
Don can do nothing but listen to her frustrated statements, but for once he stands his ground.
He does not want children and nothing can shake him in that belief.
*****
As further arguments at this point will be useless they stand up.
"I'm going out on the balcony." says Don dully and Katrina just turns to him and gives him a killer look.
In the meantime, Nina has once again entered the kitchen. She couldn't help but hear a bit of Katrina and Don's argument, though not quite picking up on the subject.
"Hey mom. Don't let him fool you. Don, he's such a jerk. I don't understand why you want to spend your time on him." says Nina, when she assumes that Don has once again cheated on her mother.
"Men can be so stubborn and sometimes they have to be persuaded with cunning. Don's actually quite sweet and he's a wonderful lover, but those are things you don't understand until you get older," says Katrina.
Here, Nina chooses to keep quiet and let Katrina believe what she believes.
Nina can use both her eyes and her ears and she has already made up her mind about Don, although she has not yet succeeded in seducing him…. On one point, she will prove her mother right. Men can be very stubborn and blind too.
As for Don, right now he is very angry in addition to being stubborn. He feels his way of life crumbling beneath him. He realizes that if he can't talk Katrina into sense, this might end up being a fork in the road.
He puts on his boxing gloves and goes out on the balcony to give the punching bag some huge punches, as if by doing so he can shut up all the world's manipulative women and their endless desires.
He has clearly felt his limit and this desire he will not satisfy. Cost whatever it takes.
*****
Early morning in San Myshuno
It's awfully early according to Elijah's reckoning, but Fatima already showered half an hour ago, so the bathroom should be free now.
When he enters the kitchen Fatima is already fully dressed and in the process of drinking her morning coffee.
Today she has to go to work at the clinic. He has not yet succeeded in convincing her to move in with him and support herself as a freelancer.
They sit together in silence. She with the coffee and he with a fruit salad.
He loves her presence in the room even when they sit together in silence. Or maybe that's exactly why. They don't need to fill the space with unnecessary words.
"Ah! You know Elijah, I always feel like a new and better person after I've had my morning coffee." she says satisfied.
"I love you before you've had your coffee as well as after." he says with a thoughtful look.
"I'll have to go. Work calls." she says and goes to the sink to wash her cup.
"I will follow you to the door, I have to check my mailbox anyway." he says.
*****
When they reach the mailboxes they bump right into Salem.
"I'm going to complain about you. You should take into account the property has other residents when you indulge in your pleasure." Salem says scowling at Elijah.
"Sorry Salem. We may have been a little too loudly raptured last night." Fatima says embarrassed.
"You were a participant in that?" Salem asks with a sheepish look.
"Let me introduce myself properly…My name is Elijah Irvin. I am an artist and photographer and I moved to San Myshuno a few months ago. It was on that occasion that I met this lovely woman I now dare to call my girlfriend." Elijah says kindly.
"Oh? I see. So welcome I guess." Salem replies without enthusiasm.
Soon after, Salem disappears into his apartment.
"Goodbye Salem!" says Fatima, but before she finishes her greeting the door is already slammed shut.
"I know Salem are a weirdo but here he showed some really strange behavior." Fatima says amazed.
"Yeah, looks like he might have a crush on you?" Elijah says.
"No not Salem. He loathes me so this sounds like a really silly interpretation Elijah." Fatima says blushing.
"I can't understand why?" Elijah replies seriously.
Fatima constantly struggles with her own self-image. Elijah is so handsome and attractive that he could choose anyone. She looks nothing like the beautiful slender women in the fashion magazines and yet he still claims that she is the most amazing woman he has ever known. Will he ever succeed in silencing the voice in her head?
*****
After Fatima lets herself into the clinic, Elijah goes back to his apartment and pours himself a cup of coffee.
He can't quite understand what Fatima does to the coffee, but it simply tastes better when she makes it. She must have magic hands?
It's a rhetorical question because he already knows she has.
Elijah is a freelancer and therefore not subject to any fixed work plan. He can work very concentrated in periods, while in other periods he takes it more easy while he gathers new inspiration. In one way or another, one can therefore claim that he never completely takes time off.
Today he will spend the day updating his website, and later researching the neighborhood to find some inspiration. But first he wants to dance.
He finds it difficult to sit still when his whole body is bubbling with joy at the luck life has given him. No one should be in doubt that he is a very happy man.
Moving to San Myshuno's Artists District is the best decision he ever made.
But now to work.
*****
Elijah spends hours making his website look as attractive and professional as possible to attract new customers.
He replaces some images to highlight some of his latest photographs.
He looks for freelance jobs online and looks thoughtfully at a photograph of Jade. Maybe he can use her for a task without Marcus freaking out?
As much as he loves photographing Fatima, the latest picture of her has taken on an edge that is not quite suitable for fashion magazines. Although he can of course take new photos that are more in their interest.
Well, but no decisions should be made hastily. He still has money on his account, so he might as well take a break now.
He could really use a few hours of sleep. It was a long night and he was up early.
It doesn't take long from the time Elijah lays his head on the pillow until he is fast asleep.
*****
Early morning in Willow Creek
Andy rolls uneasily in his bed whining impatiently.
He turns onto his stomach and lifts his head.
With an effort he manages to get up on his knees and elbows. He grunts with exertion when his father enters the room.
"Good job kid!" says Allan impressed.
Now Andy gets up in a sitting position but then rolls over on his back. He yawns heartily. This is so exhausting.
"You should take an extra little nap." says Allan and sends him a kiss on the cheek.
Allan turns on the mobile with bedtime songs before he leaves. Andy has been awake several times last night, so they may all need some rest.
*****
Allan walks towards Alice who is standing by the sink under the kitchen window. She has just finished washing up after their breakfast.
He embraces her from behind.
"How about a quick one?" he whispers.
That's something he appreciates about Alice. She is almost always in on it, especially now that the conflicts seem to be a finished chapter between them.
He takes a quick look into Andy's room but he is fast asleep.
He continues into their bedroom where Alice is waiting for him.
She sends him a sweet welcoming smile.
That smile was one of the reasons he fell in love with her besides the fact that she never seemed to be able to get enough of him. It made him feel indispensable and important to her.
Yeah? They were so young and none of them could foresee what challenges time would bring between them.
Fortunately, time and his hard work to forgive her and control his hot temper seems to be paying off now.
*****
Shortly after, Alice goes to work, with a sweet smile on her face. It was indeed a brief but satisfying session.
Allan is not going to the barracks today, so he is training at the training robot while Andy is still sleeping.
*****
Morning in Oasis Springs
Katrina seeks out Don on the balcony. Neither of them have slept since their argument and now Katrina thinks it's time for it to end.
"Please Don! Won't you come back in? You've been out here all night. I'm really sorry I made you angry." she says.
Don seems to lean into Katrina's massage. He is exhausted from the hard training but his brain is still running at full speed…
He doesn't really know if angry is fully covering the emotions running through him now. He was both surprised and overwhelmed with panic when Katrina suddenly made the idiotic wish.
It was never part of their mutual agreement…although now he's questioning whether such an agreement ever existed?
Katrina stops his train of thought quite effectively. She is a woman who knows her means.
"I'm really sorry Don. Let me make it up to you." she says.
Only an ungrateful scum would say no to that offer.
*****
A little later they are sitting on Katrina's bed, after she has deftly removed most of the unnecessary clothing.
"You are a beautiful woman Katrina, hot and sexy." Don says with an appreciative knowing look on his face.
"Thanks Don! For being so appreciative." she sweetly replies.
"I'm really relieved by your apology. A baby would be a crazy idea in our context." he says gratefully.
"I really don't see why!" Katrina says offended.
"But I thought we were on the same page now?" Don replies, confused.
"You think I'm too old? Is that what you're insinuating Don!?" Katrina continues angrily.
"No Katrina! That's not what I'm saying. You are still a very fit and sexy woman….Can we please drop the subject." he says in despair.
"Ok Don! You seem tense. Let's forget about this silly misunderstanding." she says gently.
There is nothing he wants more right now than to drown out all the exhausting thoughts that abuse his brain. Why make life so complicated when it can be simple and enjoyable?
Fortunately, they finally seem to agree, he thinks as she returns his kiss.
If Don thinks that he has thereby extinguished the thoughts of offspring in Katrina's brain, he will later discover that he is horribly mistaken.
*****
Morning in Myshuno Meadows
It's still morning. Fabio has gone to school and Rasmus and Izumi have gone on an excursion to the Central Park in Myshuno Meadows.
Now they stand together and look towards a wedding arch at the end of the park.
"What do you think about this place?" Rasmus asks.
"I think the setting is really beautiful and romantic." Izumi smiles back.
"If we agree on the setting, let's take some pictures for our wedding invitation." says Rasmus.
Izumi has discovered that Rasmus is a rather keen amateur photographer, so she has nothing to object to
They take a bunch of pictures together and there will definitely be some useful subjects among them.
It's their first real date alone together since she and Fabio moved to Brindleton Bay.
Izumi looks around with a dreamy look… "I think this place is perfect" she says.
"This pink tree could form a perfect backdrop for our wedding pictures. If only we could afford a professional photographer." she continues.
"Don's a pretty good photographer. He took some good portrait photos of me back in Sulani. I might ask him." suggests Rasmus.
"Yes you should do that." Izumi agrees.
"Now that we're in San Myshuno. How about we grab a drink at the Planet Honey Pop! It's the bar where we had our first date." Rasmus asks eagerly.
"Yes let's do that." she says.
However, Izumi will always remember the open-air bath and the cafe in Windenburg as the place where they had their first date, but at the time Rasmus was probably completely unaware of what was going on.
*****
Half an hour later in the San Myshuno Fashion District
It is not far to walk to the karaoke bar in the Fashion District, but perhaps the trip was a little too long for a woman who is very close to her third trimester.
"I am so sorry Izumi. It was probably a stupid idea to go that far." Rasmus says worriedly as he massages her back.
"Absolutely not Rasmus! I just long to sit down now." she sighs.
"Then let's find you a chair." replies Rasmus, after which he walks quickly towards the entrance.
*****
One can of course wonder if a barstool provides any special comfortable support for Izumi? None the less, that's where they settle down.
It will probably not go unnoticed by the readers that Rasmus already has a glass of red nectar standing in front of him.
They small talks with the other guests of the bar. A young woman and man.
It's pretty early in the day for drinks, but Izumi also gives the bartender an order.
"You seem very fond of nectar Rasmus, is that something I should be concerned about?" Izumi asks with a smile.
"Definitely not Izumi. I just like the taste of nectar…. It has been months since I've been to a bar." says Rasmus before emptying the glass.
It's kind of true, Izumi thinks. Rasmus spends almost all of his free time with her and Fabio and has not been to a bar with his friends during the time they have lived together.
"Maybe you should go out with your friends a little more?" she says thoughtfully.
The woman leaves the bar and the dark-haired man stays behind. They are obviously not a couple as Rasmus first assumed.
"May I ask if you guys are here from the city?" he asks.
"No, we live in Brindleton Bay. We are just here for a short visit." Rasmus replies kindly.
"Let me introduce myself. My name is Elijah Irvin and I'm a freelance photographer…. Brindleton Bay? Does that place have anything exciting to offer?" Elijah asks curiously.
"Yes definitely. There is forest, the harbour, the beach and the sea. It is a beautiful place with the most amazing sunsets." replies Izumi.
"I may have to visit Brindleton Bay at some point. Thanks for the info." Elijah says kindly.
"It's absolutely no problem, but maybe you should also visit the maritime museum and the lighthouse on the island if you are coming to the area." replies Rasmus.
They continue their small talk for a while longer about the attractions of Brindleton Bay. Elijah is always looking for useful information.
Rasmus and Izumi will happily talk about their upcoming wedding and their joy at having found each other. It's definitely something Elijah can relate to.
Since the conversation thus seems to continue without obstacles, we will turn our gaze elsewhere.
*****
Now on to Willow Creek
Allan has been summoned by Andy's cry. The unpleasant smell rising from the cot tells Allan that bedtime is over.
He absolutely does not enjoy the diaper change, but he still likes the contact he has with Andy while he does the necessary job.
He had never thought himself to be the caring type, but there is something about the little gentle boy that has softened him.
Andy has developed so much over the past few months. He is such a tough little fighter and after he has learned to sit up with his own help, he has started to eat more solid food.
Allan unscrews the lid from a glass of rice porridge. It's a dish Andy has yet to try.
Andy eagerly opens his mouth in anticipation of a spoonful of the sweet corn porridge that he loves.
But no! He sends Allan a skeptical look.
He almost looks like he's about to cry with anger when Allan holds out the spoon again.
Uh! Are you sure dad?
When his father seems sure insistent, Andy surrenders and… uh? This actually tastes good! Yum Yum!
"Wheee!" It seems that Andy loves rice porridge too.
The rest of the meal takes place without hesitation and soon the whole glass is emptied.
After the meal, Andy has some playtime on his own.
Thus, since Andy appears to be content and engaged in a healthy occupation, it is time for us to move on.
*****
San Myshuno
Marcus is not going to the hospital today. He is sitting in his private office writing an article for a medical journal.
It's a pretty quiet day and there will be no clients until later.
Jade also has a home work day and she has just finished filling out a report for her work.
"Jade, I would like to practice using massage as a treatment, can I practice on you?" Marcus asks.
Of course, Jade is happy to make herself available.
Marcus takes a cautious approach. It is a treatment technique that Kristine has introduced him to. She has always spoken warmly in favor of alternative treatment methods and he has seen that it has often worked wonders.
Jade indulges in treatment. She loves Marcus' touch. His hands are large and soft as he never does hard manual work.
She doubts whether Marcus has fully understood what he is doing because she feels rather turned on now.
"What do you think? Did I grab hard enough? Is there something you missed" he asks with an uncertain look, which is actually quite unusual. Marcus always has a confident facade that almost borders on the arrogant.
"I'm already jealous of your patients." says Jade.
"You shouldn't be Jade. I am…you are…. urgh" he begins fumbling for words.
Then, instead, he grabs her in a confident grip and kisses her.
Hopefully this will not be the outcome of his professional treatments in the future? She knows how he has enjoyed his circle of lovers in the past and she can't be entirely sure that this is a lifestyle he has given up. Can she?
Their bedroom is close by so that is where they end up next.
Some things really work between them. It is a benefit they have shared for several years.
*****
Jade quickly slips out of bed.
As far as she knows, only Kristine has patients today, so she can safely let Marcus sleep.
She can't quite figure out what's going on in him lately. The many surprising outbursts of jealousy might indicate that he is in love with her, but he will never admit it.
He is a really handsome, attractive man and they will make some beautiful children together when she manages to convince him.
One thing she knows for sure. She wants to have children even if she has to raise them alone.
*****
Afternoon at Planet Honey Pop!
Elijah has left the bar and Izumi and Rasmus are having a little party together.
Fabio is at school so they enjoy their twoness to the fullest.
Karaoke is always fun, even if neither has a trained singing voice.
Luckily there aren't many people at the karaoke bar in the afternoon so it doesn't bother anyone.
*****
"Maybe we should go home now? Fabio will be home from school soon." says Rasmus.
"You're so sweet Rasmus." she says touched.
Rasmus has unreservedly accepted Fabio as his own son. She never doubted his personality from the first time she met him.
If only they could hold onto this moment forever.
"Let's enjoy the moment a little longer. I'm hungry so maybe we can find a food stall before we go home." Izumi says.
"Yes let's do that." he answers.
*****
Afternoon in Willow Creek
Andy's eyes follow a bird flying across the sky.
The world has suddenly expanded infinitely above his eyes. That's a lot for a little boy to understand.
However, the world is still completely safe as long as he can hear his father's heartbeat and feel the warmth of his strong broad back.
*****
A little later, the world feels less safe when he is set down on a large green lawn…. Overwhelmed, he rolls over on his back.
Andy looks up at his father startled but he seems unwaveringly confident as he gives him an encouraging smile.
Allan has turned Andy over on his stomach and encourages him to crawl.
Eww! The grass feels so foreign and uncomfortable under his hands.
"Come on Andy. I know you can do it!" says Allan encouragingly.
Andy tentatively puts his hands on the ground and raises his head. There are so many impressions to digest.
Allan turns him around.
"Let's try again." he says encouragingly.
But now Andy has had enough and the tears start to flow.
He sends his father a pleading look for help.
"Hey son. It's not that hard, is it?" Allan says.
Allan quickly picks him up.
"Who is my little pilot?" Allan says as he lifts Andy high above his head.
Andy responds by laughing out loud.
*****
San Myshuno Fashion District
Rasmus sits on the square in front of the Planet Honey Pop! and looks ahead.
He sees Izumi standing at a food stand.
"It looks delicious." he says appreciatively.
"It is! You should buy yourself a potion." Izumi says smiling.
He puts an arm around Izumi.
"I'm assuming we won't have any more days like this once the baby is born?" he says.
"Don't worry Rasmus. I intend to grow very old with you and sooner or later the children will be ready to fly." she says.
"I love you." he answers.
*****
Rasmus takes a few more pictures to retain the memory.
When you see Izumi standing and strutting with her baby belly like this, you can understand that Rasmus feared that she might explode.
Some last pictures to remember a happy day.
💞
"Let's go home." she says.
This will be the last we see of Rasmus and Izumi in this chapter. There is much else under way that we cannot ignore.
*****
Afternoon in the park
Allan feeds Andy with a baby bottle.
"You'll soon be too big for that." he says kindly.
He lifts Andy so he can burp. Infants need to get rid of excess air so they don't get colic.
Allan and Andy look each other in the eye. Andy mirrors his father's confident gaze. Everything is good.
"Now I think you can entertain yourself a bit. I need to get my pulse up." says Allan.
Andy lies in the grass while Allan does push ups.
He watches his father and learns how to become a man far into the future.
Allan should perhaps have brought a travel cot or a blanket, but since the weather is fine it will probably go without.
Allan buys a refreshment from a stall.
Meanwhile, Andy has fallen asleep.
Even though there may not be so many exciting things happening in an infant's life, it is exactly as it should be.
We will return to them later.
*****
Late afternoon in San Myshuno's private clinic
Marcus has just gotten up after his sleep.
"Are you cooking today?" John asks with skepticism.
"Yes, why not?" Marcus asks.
It is quite rare that he cooks. It is usually Fatima and Kristine. They are both amazing cooks.
It doesn't take long before he starts to have problems.
*****
Kristine has been in the mailbox when she spots Salem. He looks really sad.
"Hey Salem. You look like you need a chat, shall we find a place where we can be undisturbed?" she says kindly.
It ends up being Salem's apartment as it is close at hand.
"What's going on Salem? You look like someone's dead. Is that so?" comforts Kristine.
Salem lets out a deep sigh.
"Come let's sit down Salem, then you can tell me everything. I'm good at listening," she encouraged kindly.
I know I have now opened up to Salem to tell his story, but now something else is happening in the clinic's kitchen.
*****
"You're quite the cook in your pink underpants." Jade flirts.
Marcus looks up in surprise and then everything really starts to go off the rails.
Marcus drops a bucket of spices in the pan and it causes egg mass and fat to splash over the stove.
The second after, flames lick up Marcus's half-naked body, where they burn away every down and chest hair.
Jade has retrieved a fire extinguisher before he can discover what is happening.
"Ow!" Marcus howls at last.
The fire alarm wails deafeningly and everyone comes running from near and far.
A moment later they run the other way.
It is absolutely certain that Salem will not be allowed to tell what is on his mind tonight. They are all too shocked for that.
They gather outside in the hallway.
Only Marcus and Jade are left by the scorched stove.
"Why the hell did you say that!" Marcus says annoyed to Jade like it was all her fault.
That's not a nice thing to say, Marcus!… For his apology, it can perhaps be assumed that he is in shock.
It is clear when you look at Jade that she is not unaffected either.
Neither are the rest of the apartment's residents.
Marcus takes a shower to wash the soot and the nasty burnt smell off his body.
I hope you pull yourself together while you're in the shower Marcus because Jade deserves your gratitude above all else.
Jade seeks out her roommates in the hallway.
This is where she becomes best friends with Fatima. Fortunately, Fatima is not blind to her qualities.
*****
An hour later…
Jade has cleaned the kitchen and stove. Fortunately, the soot could be washed off.
Marcus bitterly regrets his harsh words and finds a place of solitude to pull himself together.
"How are you now Jade?" Fatima asks caringly.
Marcus has obviously collapsed in front of a picture in the clinic's guest toilet, as if that is where he can get answers to life's big questions.
When Fatima later asks how he is, he snarls back angrily and she sends him a searching, suspicious look.
"I'm going to my office." says Marcus quickly.
Marcus quickly disappears.
"I'm sorry. He doesn't mean it that hard." Jade says embarrassed.
"Sweet girl. It's not your job to cover for his behavior. He needs to stand up for himself." says Fatima.
*****
When Marcus gets up to go into his office, Fatima follows him.
"Hey Marcus, I was wondering if you have time to exchange a word with me?" she says.
*****
Marcus is kind of afraid of Fatima will resign from her position. There is something in her budding relationship with Elijah that indicates she is on her way out.
It already annoys him because Fatima has an indispensable omnipresent overview of the clinic's calendar. Where should he get a new secretary with her overview and care for the clients?
However, he wants to appear as if he has everything under control and therefore opens his arms welcomingly.
"What's your problem Fatima? Just speak up." says Marcus.
Whatever thoughts Marcus has had in preparation, Fatima manages to catch him off guard once again.
"Maybe I should ask you the same question?" she says as she gives him a suspicious look.
"What do you mean?" Marcus asks uneasily.
"Oh, I know you Marcus. You might succeed in fooling yourself, but I can't help but see that you look very stressed." Fatima says gently.
Unable to stop himself, Marcus now begins to tell Fatima about his many secret non-commitment relationships over the past several years. It is a fact that has gradually begun to give him nightmares. It's been fun and great as long as it worked….Then Lana contacted him last year.
"I'm not sure I want to know all the details about your relations, but Lana? Are you saying you have a girlfriend besides Jade?" Fatima asks with a tired expression on her face.
"No, of course not! Lana is a closed chapter, but she told me I have a daughter, and what if I have got children with every random relation I've had sex with in the past 15 years? It could have happened?"
"Are you crazy Marcus!? You're a doctor. You of all people should know about birth control!" Fatima says shocked.
"It almost sounds like you have no numbers at those partners?" Fatima says uncomfortably. She has already heard far too much.
"I probably don't quite have a number, but I always agreed with my partners that we were out on a little non-committal fun and therefore I always assumed…" Marcus begins to explain shamefully.
He is interrupted by Fatima who can't keep quiet any longer…
"Damn it Marcus!!! That's the dumbest excuse I've ever heard! You are an adult man!….. I want to say it is probably highly unlikely that you have dozens of unknown offspring, but I really hope you've stopped your reckless behavior." says Fatima strictly.
"Yes of course." says Marcus.
"Now at least you should talk to Jade about the daughter you have." Fatima adds more calmly.
"I'm not sure it's a good idea Fatima. Jade often seems to have something to blame on me….I know I'm not the man of her dreams, but over time I've started to feel attached to her and I don't want to lose her." says Marcus as it causes him the greatest discomfort.
"Have you even asked Jade what she dreams about, Marcus? You should start there and then by telling her about your daughter. What if your daughter suddenly one day rings your doorbell and Jade has never heard of her?"
"That's not going to happen. Lana has clearly told me that I'm not wanted in Maria's life!…. I'm asking you not to tell Jade a single word about the content of this conversation." Marcus says firmly.
"I'm not telling her anything. It's your job Marcus and if you really want to keep her, you can't keep those kinds of secrets. No one likes one day to discover that they have been taken for a fool."
Marcus stays seated after Fatima leaves. He has never considered Jade a fool, but it is difficult for him to come to grips with his past.
There are things he regrets and is ashamed of, but it has also been a fun and pleasure-filled journey he would not have wanted to do without.
How the hell is he going to explain that without making himself look like scum.
He looks for Fatima who is on her way out the door. He wonders what she thinks of him now?
*****
Evening at Willow Creek
Alice has long since come home from work and she is now cooking dinner.
Andy is sitting and playing on his rug in the living room. It is a relief that he has become so good at entertaining himself.
Alice eats alone. Allan has already left the meal too practices commanding with his training robot.
She accepts that he needs his physical and mental training to control his temper. It is a part of his personality that he has taken full responsibility for now.
*****
Later Andy starts to get bored and cries in displeasure.
Allan comes as he had already foreseen this.
"Hey buddy! What's up?" Allan asks.
Andy responds with a few annoyed howls.
"So, calm down boy." Allan answers calmly.
Over time, Allan has begun to be thankful for there are genes that he has fortunately been prevented from passing on to Andy, such as his own fierce temper. It predicts an easier life for Andy.
Allan finds a toy car for Andy.
It seems to pique his interest for a time.
Andy sits and plays with the car while Allan starts his daily mental training.
Alice finishes her dinner and the dishes and she sits down with Andy to read him a book. Meanwhile, Andy clearly shows that he has become too tired.
Andy looks for his father as Alice carries him over to his crib.
After she's nursed him and tucked him into his nightgown, he's ready for bed.
She always recognizes Rasmus' gentle face when she looks at him, but she has also begun to see something of Allan's tenacious will to fight in his eyes, if that is even possible.
That boy is an eternal reminder that miracles can happen.
Shortly after, Andy is soundly asleep.
For Alice it has also become time to sleep.
Allan will continue his yoga training for a while longer.
Then it will be time to sleep.
We will leave them here in each other's arms. Who would have predicted that this dysfunctional couple would end up here? Life is not static but a long unpredictable journey.
*****
Late night in San Myshuno
It is very late before the five flatmates gather for dinner. In the end it was Kristine who cooked the food. Marcus is banned for a while.
Jade still seems pretty shaken up about tonight's experience. After all, she has almost seen her boyfriend go up in flames.
Marcus seems to have regained his usual confident facade.
Both John and Fatima try to comfort Jade.
"You showed such determination without being paralyzed by panic. You should be proud of yourself." says Fatima.
Marcus looks up. It could actually have gone really wrong tonight if she had hesitated or fled the apartment.
"I'm going to go see Elijah now. I think you and Jade need some peace to talk." Fatima says as she looks Marcus straight in the eyes.
"Yes of course." says Marcus a bit too hastily.
When everyone else has left the table, Marcus is left sitting alone.
He doesn't understand what made him tell Fatima his secrets, but that's the influence Fatima has on people. She is omnipresent and inspires confidence and before you know it you have lost all parades.
As much as he hates to admit it, she might be right about this, but he doesn't know where to start.
*****
"I'm so very grateful you saved me Jade, How are you now?" he says.
Jade gives him a kiss on the cheek.
"I'm glad you're unhurt" she says.
All beginnings are difficult, so Marcus doesn't really know how to continue a conversation from here.
*****
Fatima quickly takes the few steps across the hallway.
She actually looks a little shaken.
*****
Elijah is sitting at his computer but he quickly turns off the screen to sit with Fatima on the edge of the bed.
"Hi Fatima! How was your day?"
"You will not believe what I have experienced, Elijah." she says with a wry smile.
"I've had the most harrowing day for a long time. First, Marcus is about to burn himself and the kitchen down and then he tells me that he has a secret child." she says upset.
"What!?" Elijah says in shock.
"My God! I'm glad you didn't get hurt in the fire." he continues.
"Yes, so am I….Luckily Jade was quick to put out the fire so no one was hurt, maybe except for the stove and Marcus who stank like a scalded hen." she replies.
"You can never be too careful with fire." Elijah admonishes sternly.
"What does Jade say to Marcus' child?" he says suddenly with a laugh.
"She doesn't know. He hasn't told her." replies Fatima.
"My god! Marcus he's such a raving idiot." Elijah laughs loudly.
"He is like a ticking time bomb whether it's his jealousy or his suppressed secrets that threaten to ruin his life… and now he suddenly appears as an arsonist" says Elijah.
"I actually think he's trying to change himself." Fatima says with a smile.
"I promise you Fatima I don't keep those kinds of secrets. I don't have any children. You know, I haven't actually had that kind of relationship with women." he says seriously, grabbing her hand.
"I do believe you." she says.
"Have you considered children?" he continues on.
"It's hard to answer, have you?" she asks.
"I didn't really think it was possible, but if it happens I want it to be with you." he says.
"You're so sweet Elijah…When I was younger I fantasized about having kids, but I guess I'm too old now. Do you know women's fertility peaks in their early twenties?" she replies.
"But we don't know if you're too old. If it is possible…Would you like to have children with me?" he asks gently.
"Oh Elijah! You often ask such deep questions with such ease and it scares me." she says.
"Well, we can't have you getting scared. That's not my intention. Maybe we should just go to bed now? What do you say?" he asks.
"Yes thanks Elijah. It has been a mind-blowing day. I'm very tired now." she replies, grateful that they can put the subject to rest for now.
They undress to get under the covers.
Soon after, they are both sleeping safely in each other's arms.
*****
Late night in Ohan'ali Town in Sulani
"It's midnight. Aren't you going to bed, Delphine?" Valentino asks kindly
"Yes, I have spoken to a nature conservationist friend with contacts at the archedemia, so now I am ready to send the letter."
"Of course I will do what I can, but are you sure?" asks Valentino.
He knows the answer before she opens her mouth. Delphine never has any doubts.
Valentino puts on his night clothes and goes to sleep another night in Delphine's guest bed.
As much as he loves living with her, he is looking forward to moving into a house with a real bed soon.
*****
Delphine weighs the letter in her hand as she looks at it one last time.
Then she puts the letter in the mailbox.
The ship has been launched and now it just needs to find its port.
She looks up at the stars. The sky is pitch black with a thousand stars.
She can probably go for a swim.
*****
A moment later she has changed into a bathing suit.
There is a loud splash, then she is on her way.
She swims quickly towards the buoy in the middle in front of her.
We will leave her here in Sulani's postcard beautiful landscape. The water is vital for her as it is for the dolphins that are the cause of her name.
*****
Author's Note: It's a spooky month, and as I prepared this chapter, I had several titles in mind. One of them was Hide and Seek. It kind of refers back to Elijah and Fatima's game of hide and seek in the previous chapter. Unlike Don and Marcus, their relationship is not built on a foundation of unspoken secrets. This makes their relationship solid and grounded even when Fatima is hit by doubts about her own worth.
I'm sure that both Don and Marcus can go as far if they dare to stand up for themselves with honesty. Both are approaching a fork in the road and both are about to take the first cautious steps. That's why they get this little mischievous song. – Enjoy 💖