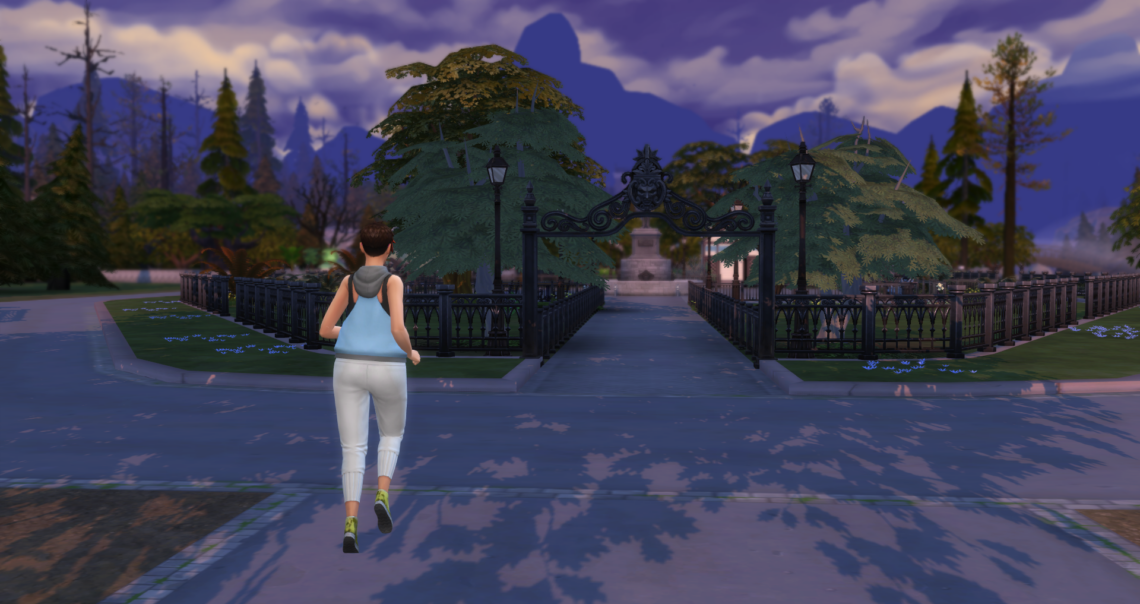 Best as life looks brighter, Tusnelda is hit by an unforeseen event.
This causes her to make a big decision.
Trix is becoming increasingly concerned. Besides the fact that Tusnelda has started to behave strangely, the curse of the mine has really started to show its teeth.
*****
Tusnelda looks critically at her own reflection.
She will definitely have to do something.
Trix listens to Tusnelda's incomprehensibly long stream of dissatisfied self-deprecating words.
If she wants to hear his opinion then she is perfect and not least when she cuddles him under the chin….
No need to complain.
Shortly after, she stands waving her arms energetically.
I found the answer Trix! I got to start running 10,000 steps every day!
10000 steps! She must be crazy !!
Now he wants to find a cozy warm place in the sun and then Tusnelda can run as crazy as she pleases.
Tusnelda starts her run in optimistic style.
The air is cool and it's just the perfect weather to run.
Puffing and panting! It goes heavy up the hill and Tusnelda soon gasps for air.
Finally she can see the library.
Tusnelda feels a little dizzy and uncomfortable and maybe it's not without reason.
Her whole body is covered in red rash.
Trix looks worriedly at Tusnelda as she drinks the medicine.
Maybe you should stop behaving so strange in the future Tusnelda!?
Tusnelda, however, does not seem to take part in his concerns. Gardening can not wait.
Trix might as well take another nap in the meantime.
Tusnelda decides to eat a small portion of fruit salad. No more gourmet food for her in the future.
Then it's off to work.
Fortunately, Trix does not have that kind of worries for tomorrow.
Tusnelda looks very proud when she comes home later. She has been given a new uniform and a promotion to Chef.
As usual, she finds new seeds in her mailbox.
She will be returning to her shop soon …
… but tonight she's too tired.
*****
The next morning Tusnelda sleeps very long.
The weather is nice so Trix goes for a walk in the surroundings. He has slept enough yesterday.
Tusnelda stands in front of the mirror again. Despite yesterday's efforts, she does not see the big change.
She stands in her own depressed thoughts as the phone rings…. It's Rasmus.
It's so great that you called Rasmus! It's much more fun to exercise when we're two, Tusnelda exclaims excitedly.
When I look at Rasmus' facial expression I'm sure it's not his idea.
Basketball is a new experience for Tusnelda.
Trix looks at it all from a distance. Now she will probably end up getting a rash again.
Tusnelda jumps energetically up and down.
After a while, Rasmus and Tusnelda agree that they have exercised enough for that day.
Shortly after, we find the small group in front of a familiar bar.
Here it goes again with drinks and conversations right up until Tusnelda suggests they sing karaoke.
Is there a better way to spend an evening?
In the company of a dear friend and to sing together….
You and me! Tra la la laaa…
Tusnelda gives Rasmus a big hug and thanks him for a wonderful day.
Trix looks a little confused… Tusnelda has already walked out the door.
Fortunately, it's time for them to go home.
Outside, Tusnelda encounters a guy who has been keeping an eye on her for a long time.
She has met him before …
… and it will not be a pleasant reunion.
The pleasure stays only on the side of the villain.
*****
When Tusnelda finally comes to herself, she has become an experience wiser.
She sits down heavily on the couch. How could such a wonderful day end so badly?
Trix looks at her with big traumatized eyes.
An evil curse rests on this mine!
Tusnelda sighs heavily.
She does not have much energy to watch the Cooking Contest tonight.
She quickly falls into a deep sleep.
For a long time after, Trix sits and watches her with deeply worried eyes.
*****
It's after noon before Tusnelda finally wakes up.
She still feels tired and drained of energy.
The food is tasteless but she still forces herself to eat.
Regardless of her well-being, the plants still need care.
Now she needs the profits of the harvest like never before.
Trix watches Tusnelda as she writes concentratedly on her computer.
That's it! declares Tusnelda optimistic.
Now I have written a profile on the housing portal. We need to find ourselves a new home in better surroundings.
You could have listened to me from the beginning meow's Trix seriously. This place is far from safe.
A little later we find Tusnelda running fast.
Life must go on in spite of the stones that hit her on the way.