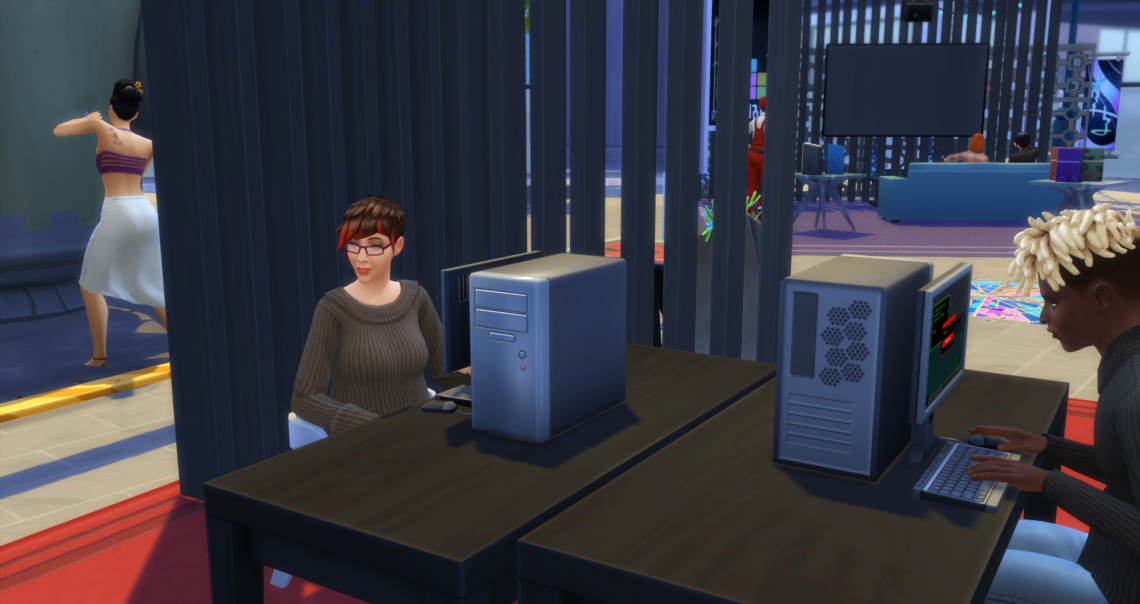 20. Third time is a charm
Today, Trix might be fooled a little bit and Tusnelda bumps into a guy for the third time. It must turn out that she is wrong in her assumptions. The question is also whether Tusnelda has become a little too fond of juicy drinks?
Another day that will be something out of the ordinary.
*****
Tusnelda is eating her breakfast when Trix wakes up.
Hey Trix! Did you sleep well?
Trix responds with a long meeoow!
To an outsider, it will probably look like pure nonsense.
Trix lifts a paw …
… and Tusnelda respond immediately to his request.
Such is the tacit language between a pet and his human friend.
Tusnelda looks thoughtfully at Trix as he moves on. He is really easy to make happy and content.
Tusnelda finds her crafting table.
She has gradually gained a lot of practice in putting together the right amount of medicine and vitamins.
Voila! Tusnelda has made a perfect Wellness treat. From now on she can give Trix a quick treatment and avoid more unpleasant vet bills.
Tusnelda has left the crafting table and continues to weed her herbs..
When the work is done, she asks Trix if he wants to go on a trip?
*****
Tusnelda and Trix meet Flora in San Myshuno and it dawns on Trix that he has ended up at the GeekCon Festival once again.
Now he might as well find a nice place to sleep in the sun.
It's time to participate in another hackathon.
This time there are more participants in the competition.
Tusnelda has just bought a burger at the food stall when it is announced that Tusnelda has once again won the first prize.
She must be a genius!
Flora gives Tusnelda a huge hug and congratulates her on the award.
Trix looks hopefully at Tusnelda … maybe they can move on to the beach?
Tusnelda is very happy and plays with Trix for a while.
Sweet Trix, I just want to have a single drink before we go home Tusnelda says..
Dare he trust her?
The bar is empty when Tusnelda finds a seat….
….but there will soon be other guests finding their way.
I'm wondering if I should start worrying about Tusnelda's enthusiasm for juicy drinks?
Hey there!
A guy waves to Tusnelda. …. Him again? Flora's admire.
Tusnelda apologizes that Flora has apparently already gone home and the guy looks at her with open mouth.
Who is Flora?
She is rescued by Dina who interrupts to tell the guy she is his biggest fan.
He regrets to Tusnelda that it often happens he is recognized and he adds that it is always a pleasure to meet her.
Who is he? Tusnelda has no idea and she does not have time to ask further questions before the guy starts singing karaoke.
He sings divinely and she must therefore assume that he is a singer.
Maybe even a famous singer?
Tusnelda feels called to praise him for his beautiful voice and he thanks her happily.
Then an awkward silence begins…
He looks with soft curious eyes at Tusnelda and she suddenly feels completely dry in the mouth and empty of words.
Luckily, they are interrupted by a woman who Tusnelda assumes is a fan and Tusnelda quickly turns around to leve.
Hey stop! the guy shouts … I don't even know your name?
Tusnelda returns and the guy introduces himself as Martin and it also turns out that he is not a singer at all, but that he is a player on the local sports team.
Hey! Nice to meet you, Tusnelda shouts at him as he leaves.
Tusnelda grabs the microphone and starts singing.
Her voice is not trained and she has trouble hitting the correct notes …
… … but it does not matter. Right now, she's on top of the world.
Afterwards, Tusnelda stands in her own thoughts with a fluffy smile on her face.
It has been a day of new surprising experiences. She has won her third computer. Now she can sell it and put another large sum of money into her savings.
The third time is definitely a charm.
Meow!
Tusnelda is interrupted in her thoughts.
Oh! Hey Trix!
Trix rests in Tusnelda's safe arms. Maybe they're on their way home now?
He quickly realizes that he is wrong.
Tusnelda greets the other customers in the bar and the attentive reader will see that a new bartender has arrived at work.
*****
Hours later, a new bartender takes over the shift, before Tusnelda decides to go home.
There he is again?
Tusnelda greets him a little surprised…. Hi Martin!
Martin discovers Trix and tells Tusnelda he loves cats.
He has a cat named Fiona. They live in Brindleton Bay, where they share a house with his childhood friend Rasmus and his cat Brooke.
What a coincidence! It's a small world exclaims Tusnelda, because now it turns out that her friend Rasmus is a friend of Martin.
Puff!
Suddenly Martin disappears into a black cloud.
I do not think we have greeted each other, says the newcomer to Tusnelda with a sly smile.
What the hell is causing you to interrupt our conversation growls Martin angrily
The mood suddenly becomes very intense.
Guys, I have to go now! My cat needs food apologizes Tusnelda.
Trix applauds with a loud meow!
Then another weird guy joins the company.
It's probably high time she and Trix are leaving the area.
The sloppy guy apparently also decides to slip away while Martin still growls loudly after him..
What an incredible evening!
*****
Tonight, Tusnelda happily got to bed before falling asleep in an awkward position.
Another one was less fortunate and remained standing in stunned mists all night
One never knows when they will meet a charmer.