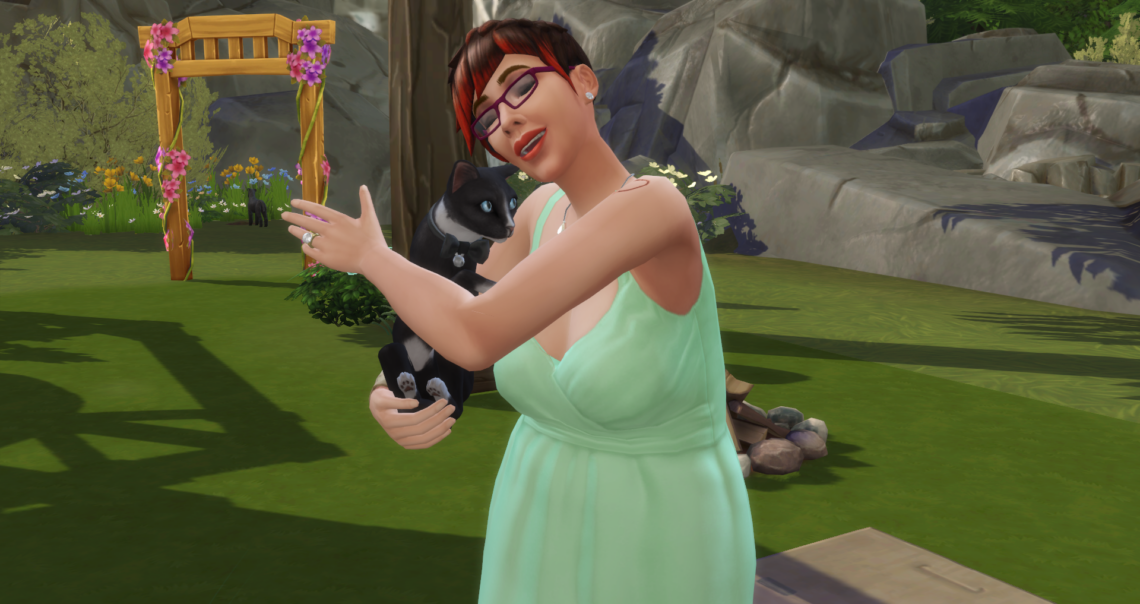 29. I can not live without you
The attentive reader will immediately see that today's title image contains a spoiler. We'll get to that.
But sometimes what seems so obvious to the outsider is not so clear to those involved.
The holiday is over and in today's chapter Tusnelda starts in a completely different place.
Tusnelda and Martin have returned home from their vacation and everyday life has taken over.
Today, Tusnelda has agreed to have a four-night drink with Rasmus.
Rasmus greets Tusnelda cheerfully …. "I listen to Martin humming all day since your holiday, so I assume you have had a wonderful time together".
"The holiday was definitely wonderful" answers Tusnelda short and tense.
It looks like Tusnelda has once again been hit by serious after holiday blues.
Rasmus looks worriedly at his friend … She does not look happy at all.
"Spit it out Tusnelda! Is something pressing you? … is it Martin or is it something different?" Rasmus asks.
"No!" answers Tusnelda quickly … "Martin is still attentive and loving but after our holiday he has been so busy … and my daily life … everything has become so gray and meaningless."
"Every afternoon I return home after a long hard day's work"….
"Home to an empty house with laundry, cleaning and boring stuff."
"When I have time off from my work in the restaurant, then I have to take care of my store …. sales are going really well but it leaves me so little spare time."
"The next day, the whole treadmill starts all over again."
"When I finally have some days off, Martin has to go to work, play a match or he must take care of his training.
I'm trying to expand my knowledge of herbal medicine … but it is as if the words do not make sense and I have lost the ability to read."
"The worst part is that I miss him every single minute."
"Maybe you and Martin should move in together", Rasmus suggests.
Tusnelda sighs heavily.
"But that's not how I am Rasmus!" … "I'm not a woman who can live in a stable relationship with anyone."
"Maybe you're wrong Tusnelda.… perhaps you should consider whether that perception belongs to a past that is long gone", says Rasmus calmly.
It's like Tusnelda has already stopped listening and she is giving her full attention to her drink and her own thoughts.
Rasmus starts a conversation with another of the bar's guests.
Shortly after, they say goodbye to each other and go their separate ways.
*****
The next day, Tusnelda can not let go of last night's conversation.
Is there a truth in Rasmus' arguments? Can she really make that much mistake when it comes to her own personality?
To escape her difficult thoughts, she sets about mounting a grid on the fireplace.
Tusnelda finds a book entitled The Psychology of Love, written by a well-known life coach.
Maybe the book can give her some answers?
After half an hour, she has a headache and is filled with even more confused thoughts.
Exhausted, she tries to find peace by taking a nap.
Trix is neglected, as usual, when something preoccupies Tusneldas thoughts and he is left to his own company.
Out of sheer boredom, he tries to talk to the frogs but he can not understand their strange quack….!?
Tusnelda !? Trix examines her with an attentive gaze ….?
Tusnelda bends down and caresses Trix.
"I'm sorry I've neglected you in the last few days" she sighs … "I promise you'll get all my attention tonight…. don't worry … everything's just fine."
Immediately after, Tusnelda goes to work.
Trix sits back and analyzes the meaning of Tusneldas words. … everything is fine?
Trix is a clever little cat and he does not believe a single word.
******
It's late afternoon when Tusnelda returns home.
Her day has been just as tough and unsatisfactory as the day before.
Shortly after, it knocks on the door.
Tusnelda greets Martin with a loving kiss on his cheek.
Trix must realize that it will not be tonight that he gets Tusneldas attention.
Of course, they immediately disappear into her bedroom….
Although Tusneldas thoughts prevent her from being fully present in the moment, love still feels satisfying and full of comfort.
Soon they are both sleeping heavily.
*****
As always, Martin wakes up very early.
The sweet man immediately starts preparing breakfast.
Tusnelda is awake and standing contemplating her own reflection …
Now she gives herself a pep talk with Trix as the wondering spectator.
She has made an important decision.
Martin is still busy with breakfast when Tusnelda asks him if he has a minute to listen.
"I always want to listen to you", exclaims Martin with an attentive welcoming face.
"It's terribly difficult for me to explain .. and I hope you do not get too startled", says Tusnelda fearfully….
… then she stops her speech and looks into Martin's loving brown gentle eyes …. and suddenly she knows that everything is just fine.
The next thing happens quickly without hesitation.
"Will you marry me!?"
"Of course I want to marry you … that's my biggest wish", Martin replies happily.
Afterwards, they sit for a long time and talk confidentially together.
Martin looks seriously directly into Tusneldas eyes….. "I think I never dared ask you that question Tusnelda, after you told me several times you are a non-committal woman"…. "To be honest, I can not live without you."
"I feel exactly the same way" Tusnelda answers gently … "that is why I finally realized that I was wrong about myself."
With his usual surplus of energy, Martin suddenly needs to get up.
Tusnelda looks at him gratefully from her seat … her handsome wonderful man.
Martin catches sight of Trix and he says beaming with joy … "Hi buddy! It seems like the two of us are moving in together, what do you think about that?"
"Well! I assume it's ok", Trix replies with a friendly meow …. "as long as you remember to bring your sparkling toy."
He certainly did indeed!
*****
For once, Tusnelda gets up before Martin and she's already in the kitchen.
"Good morning sweetheart" exclaims Martin …. "What are you doing?"
"I thought we had ordered a Cater to take care of the food?"
"Today, the cake must be absolutely perfect!"
"I just need to finish it and then I'm with you", Tusnelda replies.
"I will keep you on your words" Martin replies with a twinkle in his eye.
The cake is fully decorated and ready for the guests to come. Everything is done and there is still plenty of time …
Time to make some joyful sparks!
*****
Both are solemnly dressed as their guests begin to arrive….
"You look absolutely adorable in that dress," Martin says
It will be a small assembly today, as Flora has not responded to the invitation …. maybe Tusneldas wedding is too difficult for her to handle. One man's happiness is another man's (women's) broken dreams.
Soon the guests follow Tusnelda and Martin down into the garden. Here they are to witness a simple wedding ceremony.
Now they are legal husband and wife.
I wonder if the witnesses got it all?
Justin seems more preoccupied with entertaining Rasmus with a funny joke.
Thankfully, Tusnelda and Martin are all too happy to worry about the presence of their guests.
Hooray! Finally, Justin has discovered that the ceremony is over.
Now it's time to taste the wedding cake.
The action contains a symbol that is understandable to anyone.
From today they will share everything in life …. for better and worse.
Partytime! Lets dance.
"Did everyone notice this little well-dressed guy?" Tusnelda says, as she gives Trix a loving hug.
"Please, do not embarrass me", Trix replies with a slight meow.
The joy and love seems to be contagious.
Now the shadows have become long and Tusnelda lights the fire to chase away the coolness.
There is still cake left and lots of food.
One last dance before we go home.
Suddenly Tusnelda comes to mind that they do not have a wedding picture.
Maybe they should have arranged a photographer, but this must be good enough so far.
A happy newlywed couple.
"Hey Rasmus! Please sit down and let's talk together". "There is still plenty of food", says Martin with a welcoming gesture.
Martin really has a lot to thank his friend for.
They have been friends since they were boys and now their paths diverge, even though they are still neighbors.
Without Rasmus' intervention, everything might not have gone as it is.
"I hope you understand that you are a lucky man" Rasmus says seriously.
"No doubt about it" Martin replies. "I know"
Too soon the party is over and the guests go their separate ways.
Tusnelda and Martin wave until they lose sight of the last ones.
The caterer has left huge amounts of food to be set aside.
Martin catches Tusneldas gaze. "Now only you and I are left …. Come sweet wife, will you follow me to the bedroom?"
*****
I the author get ready to quit this chapter, when I discover Trix is staring intensely at me through the screen.
Hey! Why is no one taking a cat's presence seriously?
Trix! What are you doing in the dish with Fish n' Chips? Have you mashed yourself in the food?
Excuse me! What are you counting on me for?…. I'm a cat with refined taste buds and an exquisite taste for quality food … I'm just asking you to remember my important role in the story.