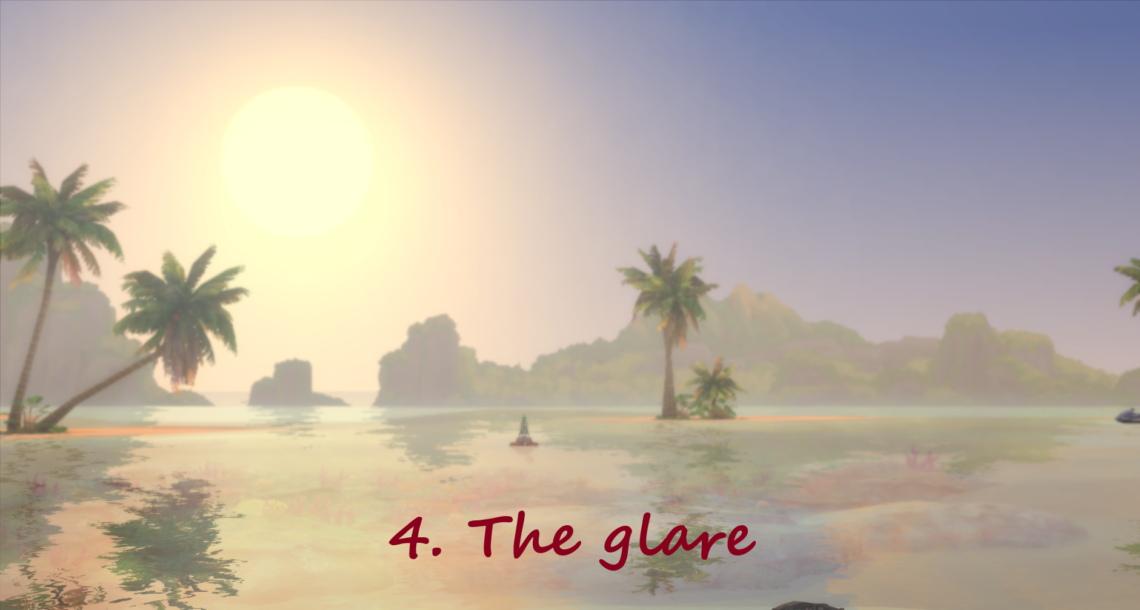 When the glare hits your eyes, it becomes impossible to see. Today, Alia and Akia discover that something beside the sun emits a glare.
A new day has begun and all day long Akia stands and fishes by the water's edge.
Alia snorkels around in the ocean while dreaming about the baby that is on its way.
In the evening the sun shines with a glare before it leaves the sky..
Akia admires the sunset and Alias' steady swim in the sea before heading home.
He can not imagine a more beautiful sight than the sunset and the woman in the sea.
Long after Akia has left, Alia continues to swim.
*****
It's almost night before Alia returns home and she exhales a startled scream when she catches sight of Akia.
Akia! What happened to you!?"
Then she suffers from an overwhelming dizziness.
The whole world rotates before Alias' eyes.
As she turns around, she encounters the most frightening sight she has ever seen.
Now he sends his poison directly into Alias' eyes.
Like an unwilling doll, she collapses and now she feels the bite and the icy lips.
The snake raises its head and gasps for a mouthful of air.
He has drunk a large portion of Alias' warm blood and now he lets her fall to the ground like an exhausted sack.
Shocked, Akia wakes up from his doze when he hears the bang from Alias body hitting the bridge.
The next moment he feels the poison that hits his eyes and paralyzes his will and all his senses.
Soon Akia feels the dead cold lips, the bite and how all resistance is sucked out of his body.
The snake licks its mouth and releases Akia's body.
Now he casts one last glance at the two limp bodies. He will remember this place and this hot, salty, vibrant meal.
*****
The next day, Alia tries to remember what hit her.
Her whole body aches and the nausea and dizziness is probably not just due to her pregnancy.
Akia has soon slept for fourteen hours.
Her fruit salad tastes quite awful today and she gives up eating the rest.
It's afternoon before Akia wakes up.
He tries to help her aching body with a massage.
Whatever has happened, fortunately the two still have each other.