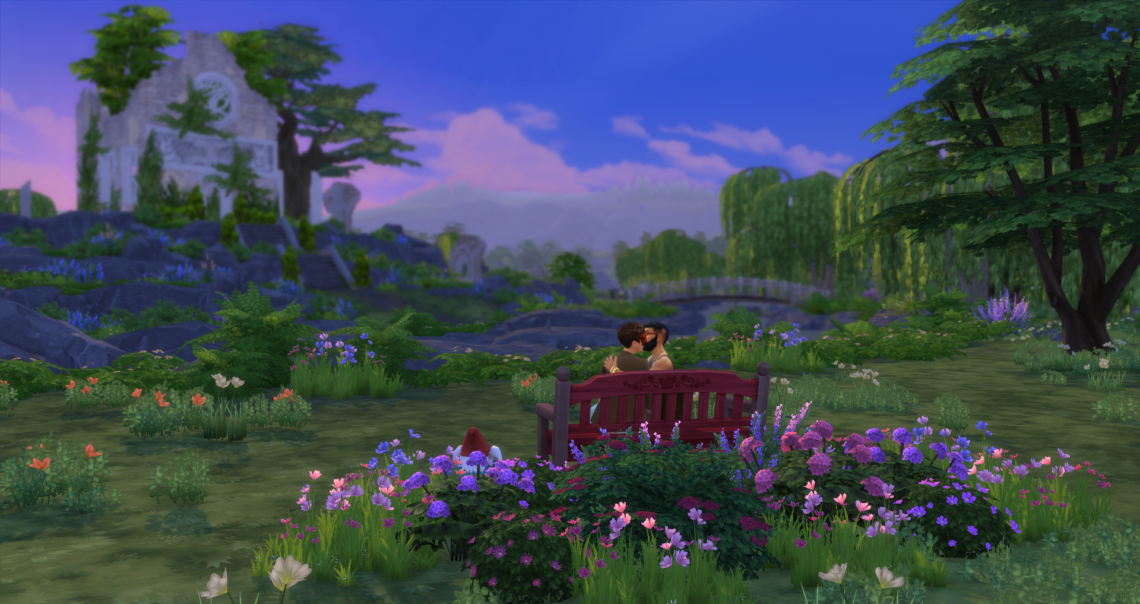 For better and worse – prelude
In the first part of Tusnelda and Trix's story, we have followed their journey from a dark mine in Forgotten Hollow to a nice house in Brindleton Bay.
They have both found love and they have made new friendships. Tusnelda has started in her dream career and Trix has found a nice beach where he can hunt birds and squirrels. Life is almost perfect and here all classic fairy tales would end.
The reader will know that life fortunately does not end here and neither does life for Tusnelda and Trix.
In the second part of the story continues their struggle to fulfill their dreams – for better and worse.
First of all, it's time to take an update on how our main characters have spent their time during my summer break.
*****
Should anyone be wondering what's going on in that picture, it's me Trix enjoying the sun on a bench in the Bramblewood.
It all began when the washing machine in our house in Brindleton Bay had once again poured gallons of water on the floor …..
… it was easy to see that Tusnelda was very annoyed.
Besides Tusnelda and I, Martin and his breathtakingly beautiful cat Fiona are also part of our household.
Fiona is my eternal love …. although I wish she was not always first in line to play when Martin finds his wonderful sparkling toy.
"Hey Martin! … I'm waiting for my turn!" meows Trix with impatient.
Trix is a clever cat and can realize when he is fighting in vain and it is time to retire.
"Hi Trix! You look a little depressed?" says Tusnelda … "I'm thinking of something that might encourage you, but I need to talk to Martin first"
Oh! if Tusnelda and Martin start a conversation together, then he might as well take a nap … there's no chance of the sparkling toy today.
Martin has put his cat toy aside and now he is sitting in front of Tusnelda, ready to listen.
"Martin, I feel like all the problems with my colleagues and all the annoying practical problems in our home are dragging me down … what would you say if we went on a small vacation?" Tusnelda asks cautiously
"I will do everything for you my dear ….and this is not the worst query you've had so far" Martin replies with great enthusiasm.
*****
The next morning we find Martin in a rented house in the Bramblewood in the process of making breakfast.
"It smells really good" meows Fiona loudly
Martin certainly denies that it is food for a cat.
Fiona has to make do with the dry cat food. She never learns to understand Trix's predilection for that type of food.
Tusnelda sleeps heavily far away from the everyday treadmill, so Martin must do without her company.
After Martin has eaten his breakfast, he finds his magical feather duster.
It's once again Trix's turn to wait patiently for Fiona to get tired of catching sparks. An eternal sacrifice for love.
*****
Out of the day, Tusnelda finally wakes up as she and Martin travels to the village of Finchwick. Here they enter an old inn.
"Hello and welcome to The Gnome's Arms, what can I offer you?" says the innkeeper accommodating.
"Perhaps it would have been more appropriate with a pint of beer," says Martin, after giving their order.
"Beer makes me tired" Tusnelda replies …"and now I am finally awake."
"Cheers! This drink is amazing" Martin says kindly
Martin is starting to feel a little tense. He has never been a fan of being locked inside, in larger groups of people.
To the outsider, the crowd looks pretty modest … although the guy on Tusnelda's right side looks pretty creepy.
Here Martin slips away, while Tusnelda chooses to finish her drink before she leaves.
Outside, a market woman offers her goods
But as always when Martin is tense, he chooses to run.
Tusnelda is more curious and she listens kindly to the market woman's offer.
"Here you can buy everything from freshly laid eggs to crispy vegetables – Sweet berries and llama wool for embroidery – Freshly milked milk and and other consumables – Do you need salt for an egg, I will handle the delivery" the market woman sings cheerfully.
"The innkeeper has just told me about chocolate berries and I would like to buy 100 gr of these … and maybe you can tell me a little about the sights in this area." Tusnelda answers politely
*****
"The market woman told me about this lake" says Tusnelda as she eagerly runs in advance.
Suddenly Tusnelda gets a strange feeling … "Stop it Martin! I can feel you stares down my ass?" she shouts annoyed.
"It's a magnificent sight," Martin replies with satisfaction.
Soon, the playful racing continues in the cool water.
"I got you!" says Martin tenderly
"Let's find our way back to the house, my toes are icy cold," Tusnelda says.
Martin is the first to reach the shore and he stops in amazement when he catches sight of a rabbit. It does not seem scared at all.
"Hi my beautiful, did you see the rabbit?" asks Martin when Tusnelda arrives
The rabbit seems to have slipped away and right now Martin has forgotten all about furry animals.
They are interrupted by a passerby who enthusiastically begins to tell them about the sights of the area.
Martin swallows an annoyed remark. He definitely does not want to talk right now.
Finally, the man moves on and Martin eagerly starts on the way home.
Tusnelda is tired and follows at a slower pace.
That man is always so full of energy….
… or maybe not anyway.
Let's conclude that everything is going really well in the Bramblewood, therefore, we can now confidently turn our attention to another main character.
*****
At the same time in Windenburg
We find Rasmus with both hands full, just outside The Shrieking Llama in Windenburg.
Here he has just had a few drinks with Blue and now the question is what to do next.
Rasmus grabs Blue by her hands. "I do not want to let you go" he sighs
"Why are you always so serious Big Man? I'm not going anywhere …. we are not done yet" Blue replies teasingly
"I would actually suggest we look at some flowering bushes" Blue says as she sends him a wink with her eye
"Are you coming Big Man" Blue shouts as she runs forward.
Rasmus is pretty amazed. He has never before discovered that Blue is particularly interested in flowers and bushes ….. She still keeps surprising him.
He follows breathlessly after Blue, who is impatiently waiting for him by a bush with large flowers.
"After you Big Man" Blue says as she slaps him in his ass.
Yep! That woman is truly full of surprises!!
While Rasmus and Blue botanize, we can for a while enjoy the view of the inn and the beautiful blue sky.
Later, Rasmus helps his beloved up from the grass.
She's so damn hard to let go of!
"Are you fresh on a little more fun?" lures Blue affectionately
"I'm totally fresh on more botanization" Rasmus replies eagerly.
"That was not quite what I have in mind" replied Blue …. "follow me!!" ….
Streaking! Some surprises may still be too difficult to follow and right here Rasmus notices that he has a limit.
But the effect of the surprise is not to be mistaken.
Fortunately, Blue soon chooses to return with her clothes on.
"Damn Blue, this seems too crazy" Rasmus mumbles as he receives Blue with a kiss.
"It's ok Big Man, let's find something else fun to do" Blue replies as she heads towards the inn
Rasmus follows her eagerly. They are definitely not done with each other.
*****
Back in the Bramblewood
Trix has found a little feather from Martin's cat toy that he can entertain himself with.
Fiona has once more won the prey … but Trix has his feather and little something is better than nothing.
When Fiona gets tired of playing, Martin finds his guitar.
It's been a long time since he has played his instrument and Trix will definitely not claim that it has been a miss.
Tusnelda has gone to bed after the exhausting swim, so Martin finds a book on a bookshelf.
Fiona stares as if hypnotized into the fireplace.
It's a peculiarity she has when she sees a fireplace with fire in it.
Fiona meows and sends Martin a worried look.
He assures her that the fireplace is secured by all guidelines.
Tusnelda has been awakened by her hunger and she watches it all from a distance. Despite what bothers her, then she still feels like a very lucky woman.
Martin gives Fiona a hug and assures her that she is the sweetest girl in the world.
Shortly after, however, it looks like he has lost interest in favor of another sweet girl.
Once again, there were no sparks for Trix today, but another one will not be cheated.
With that, the day is over.
*****
A new day
There is always a new day and here we are back with Trix on the bench. After all, life is not bad.
Tusnelda has gone out into the terrain to collect herbs and here she discovers that chocolate berries grow wild in nature.
Nearby, Martin stands and speaks into the air.
It turns out, though, that he's not quite as crazy as we might think.
He's making good friends with a wild rabbit.
"You're the cutest little lump of fur," Martin says as the rabbit benevolently lets him pet it.
"I'm glad you seem to be enjoying the holidays" Tusnelda says, giving him a kiss on the cheek.
Martin enjoys every minute and he thinks it's the best idea Tusnelda has had in a long time.
"You can believe I do! … but you have seemed stressed for a very long time, so I hope you can enjoy it all" Martin replies
Martin goes on and Tusnelda is left a little behind in her own thoughts ….
Of course she enjoys the holidays, the new impressions and Martin's attention, but at home a difficult task awaits her.
She loves her career in science, but she has come terribly wrong from the start as far as her colleagues are concerned. Now she must try to convince them of her good intentions ….
While Tusnelda is speculating, Trix has arrived.
He wakes her out of the speculation with a loud meow.
Trix watches her closely and he gets seriously worried when he sees Tusnelda's sad face.
"Is anyone bothering you?" Trix meows carefully
If it's that furry rubber ball over there then I'll give him some beatings "meows Trix angry.
"Hey you there! You should not even consider bothering Tusnelda !!!" he hisses
The rabbit prickles its ears curiously. It does not understand much of Trix hiss and meow.
The tense mood is interrupted when Martin suddenly starts singing loudly nearby.
Ouch! my ears howls Trix as he terrified seeks shelter by a bench.
Upon closer reflection, the bench probably provides no protection so it is time he finds the holiday home.
Fiona looks questioningly at Trix as he walks in the door. He seems tense.
"Have you had a hard day" she meows carefully
"I need peace," he replies with a short meow.
Martin is having a great time.
Shortly after, he runs out into the countryside … just because running is so wonderful.
Tusnelda has returned home and she is received by both cats.
Trix seems a bit distant, but Fiona would very much like to receive a hug.
It seems like she has gained weight, but it's probably not something to worry about, Tusnelda thinks.
"Let's look for Martin" says Tusnelda as she walks into the kitchen with Fiona in her arms.
Martin has finished his run and now he is fully occupied with painting at an easel in the garden.
He truly enjoys his vacation.
*****
Later, Tusnelda and Martin are sitting together on a bench where they enjoy the breathtakingly beautiful sunset.
Martin puts a sore arm around Tusnelda and pulls her closer.
"I think we are such a great team together and we have such an abundance of love." he says gently.
"What do you say about we're trying to make some kids."
"Kids? … I really want to have children with you Martin … but right now I have my career and some goals I dream of achieving first" Tusnelda answers hesitantly
"But you must not do it all alone Tusnelda! I am here right by your side and I will gladly look after our children" Martin says while sending her a warm loving look.
His soft tender eyes makes Tusnelda dizzy in her head and without her knowing what controls her words, the answer flies out between her lips.
"I know you are Martin, and yes! I would very much like to have children with you" Tusnelda replies
"Yes !? You do? …. You just made me an even happier man" Martin replies.
Stunned by the love and the enchanting sunset, their mutual promise is thus sealed with an endless kiss.
Love is wonderful, but it does cause a lot of frightening choices.
"Are you OK?" Martin asks carefully as they enter the house.
"Yes, I'm just a little groggy" Tusnelda replies hesitantly.
"So let's get started" Martin says with a smirk
Martin seems so strong and steely and Tusnelda follows him dizzy with infatuation.
Love is magnificent, full of energy and sparkling dreams.
Soon Tusnelda falls into a heavy contented sleep.
Martin sits on the edge of the bed for a long time, thinking about life.
The future is bright ahead – for better and worse.
*****
Author's note
Dear readers, this prelude ends where the classic fairy tale would end, but I can assure you that there will be no quick happy ending.
The prelude is my attempt to refresh the characters after they have taken a long break with me.
Furthermore, I hope the prelude has raised some unanswered questions that will make you come back.
Thanks for reading ❤