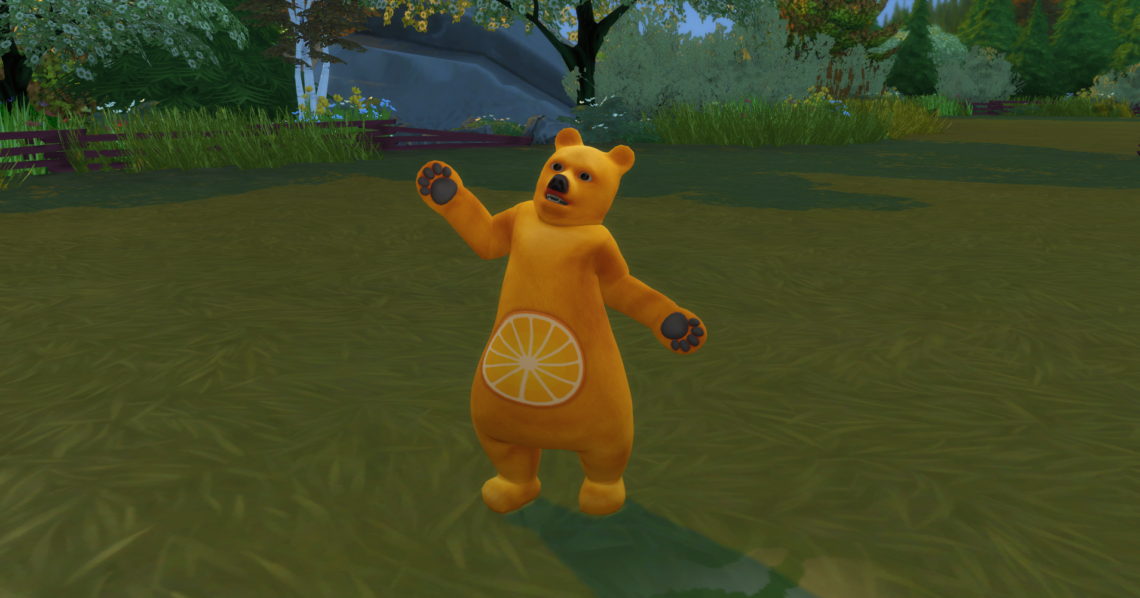 In this chapter, some bears are awakened from their hibernation.
When the bears appear relaxed and soft like teddy bears, you get the urge to let yourself be engulfed by their soft fur and large bear paws.
A bear can be gentle and caring when looking after its cubs, but it also contains great passion and gigantic powers. One must therefore always be careful not to arouse the bear's anger.
Warning: This chapter contains images of some exposed behinds and words that some may find offensive.
*****
Five o'clock in the morning in Brindleton Bay
It is very early in the morning when a yellow bear comes out of Fabio's room, balancing some plates.
It is a very friendly bear that carries the dishes to the kitchen sink.
Soon he turns around and heads the other way.
It turns out that this bear has a little cub to take care of. The bear hums peacefully as he cares for his cub.
In the bedroom Rasmus and Izumi are still sleeping.
Soon Izumi's sleep will end. The pregnancy forces her into the bathroom.
The bear is still preoccupied with his care for the cub.
"Good morning Fabio! Did you sleep well?"
"Huh!?"
"How did you know it's me mom?" the bear asks in amazement.
"Because we bought your bear costume together when you were invited to a costume party last year." Izumi replies with a smile.
"Grrr" the bear growls.
A moment later, he starts some bear trouble.
"Fabio! Will you please stop messing around." Izumi says annoyed.
Izumi gets up with the dishes when Rasmus enters the room.
"Good morning Fabio!"
"What happened to the space ranger from yesterday?" Rasmus asks in surprise.
"The bear killed him. When a bear awakens from its slumber then it roars loudly and drives everyone away of its territory." Fabio explains patiently.
"Oh? But why? I liked the space ranger." says Rasmus confused.
"Because that's what bears are supposed to do. He must roar and persecute his surroundings!"
"Fabio! Please behave yourself.." Izumi says from behind.
But then she is urgently forced to seek out the bathroom, thus handing the bear issues over to Rasmus.
In the background, she hears a giant roar, but she is more concerned with her own challenges right now."
"Look, you frightened Fie." says Rasmus without understanding.
"ROAR!" the bear replies.
"Now you're scaring me! We can't have wild bears inside the house." says Rasmus.
"But the bear is hungry Rasmus! You will have to give him honey food to calm him down." replies the bear.
"I'm afraid I can't get you honey, but maybe I can get you some sandwiches?" replies Rasmus thoughtfully.
"Sandwiches are good as well." hums the bear peacefully. He is a nice bear after all.
A little later, the sandwiches are served on a plate right in front of the hungry bear. Only then does he discover a problem.
How is he supposed to grab the food with those clumsy bear paws and where is the entrance to his mouth?
As his mother always says. If you discover a problem there is a solution, but sometimes it requires some work.
This time, however, it just requires the bear to temporarily put its costume away.
*****
Morning at Tusnelda's
The morning at Tusnelda and Martin's is far more peaceful. They both still lie in their peaceful slumber.
After a while, Tusnelda slips quietly out of the blanket's embrace.
She smiles at herself in the mirror.
Whatever yesterday's fertility massage has done, she feels optimistically reborn as if anew.
She experienced a wonderful sparkly journey with Martin last night and she is sure that the sparks have awakened a small miracle.
She wants to make Martin a really nice morning meal.
She hums over the cooking as she lets her mind wander.
"Good morning Sweetie. What's up? You look busy."
"I'll make you breakfast…Can you set the table?" she replies.
"Of course I can." he says.
"It looks wonderful, by the way." he says, not quite getting into what it is he's looking at.
Tusnelda returns to cooking. She is a trained chef and this meal must be perfect. Nothing less can do it.
In the background she can hear Martin setting the table.
*****
"What do you think of the food?" she asks excitedly.
"It tastes wonderful Tusnelda…Is it spinach pie?"
"You deserve it Martin on top of that night, and the spinach will boost your libido." she says happily.
"Oh? Thanks, Sweetie." he answers a little embarrassed.
It's not even seven in the morning and he cannot quite follow her change of mood. It is actually only Tusnelda who has felt the effect of the alternative treatment.
"Let's do it again. Go on a date and…you know." she continues eagerly.
"Aren't you going to work today?" asks Martin sensibly.
*****
As often the woman gets the last word.
Here, the camera captures the chapter's first exposed bottom. It's not really that bad, I assume.
It will be the last we see of Tusnelda and Martin in this chapter. There are many other topics that require attention. We will therefore leave them to their sparkling reality and let the sparks ignite their private little miracle.
******
Still morning in Brindleton Bay
Rasmus has a completely different kind of challenges with the water pipes. He stands cursing over the kitchen sink. It will be good when the worn-out kitchen is replaced.
Now there is a knock on the front door.
"Hey Matt! You can come in." says Fabio welcomingly.
Fabio himself is on his way out into the garden.
Izumi is ready to receive the craftsmen. There are always some details she wants to discuss.
Rasmus disappears from the construction site. He can appropriately start by hanging the first laundry of the day on the clothesline.
Fabio has put the clumsy bear costume aside and he is now helping to water the kitchen garden.
He really is a nice little boy, but of course it is not without significance that he is still trying to earn some more scout badges.
"Rasmus! The bear wants to be photographed." he shouts eagerly.
"Oh? I thought we were done with the bear? Wasn't I supposed to photograph you in your scout uniform?" tries Rasmus.
But of course the bear gets the last word. Rasmus would hate to see it start to show its teeth.
"ROAR!" roars the bear as it menacingly shows its large paws. As we know, that's what bears are expected to do.
*****
San Myshuno Art district
After a long trip home together, Fatima and Elijah have finally landed in the Art district.
"Thanks Fatima! It was a magically night….Would you like to…" Elijah begins hesitantly, seriously.
"Maybe you can show me your art exhibition if you want to?" she interrupts.
The encounter with the everyday environment suddenly make the next step so difficult to overcome.
They follow each other up the stairs to the entrance. Grateful to postpone what comes after.
"How did you come up with the idea for this exhibit, Elijah?"
"Most of it is planned and collected by the museum's staff, but the poster is my work." he says proudly.
They stand side by side for a while, pondering the poster.
"What do you think?" Elijah asks.
"She really is a beautiful woman. You should do more modeling with Jade."
"She is. We will see about that." he answers.
"Marcus shouldn't be a problem, but tell me…What is the myth about?" she asks.
"In Greek mythology, Aphrodite is the goddess of love, beauty and fertility. Legend has it that she was born in the sea from the sperm of the castrated Uranos." he says
"That sounds pretty controversial, Elijah. Almost morbid."
"You can say that, but often you find beauty in the contrast to the darkness." he says thoughtfully.
"Is that why she's wearing a wedding dress?"
"Nah, I guess you could say it was a compromise I made with Jade. She rejected my first draft that was far more…what can I say, dark erotic? I will say that now I am glad that she contradicts me."
"You should hire her again Elijah. Jade is stunning, very beautiful." Fatima answers seriously.
"She doesn't have your sensual glow. I should have hired you." he says as he grabs hold of her.
"You're talking nonsense Elijah…" Fatima says before she is silenced.
"You don't see what I see Fatima. You are the foam-born Aphrodite, powerful as the beating of the waves and light as the foam on the sea's surface."
"Put me down Elijah. You're breaking your back." she protests.
"I will not lose you." he answers.
For some reason she believes him. She feels completely safe."
After this, they dive together into the basement.
*****
Early afternoon in Brindleton Bay
Fabio is going to a scout meeting a little later in the day and now he has agreed to let Rasmus take a picture of him in his uniform.
His mother arrives to support him.
"Are you ready?" Rasmus asks.
"We're all set, aren't we, Fabio." Izumi says as she gives his hand a small squeeze.
It will turn into a series of really nice pictures of the contact between mother and son.
Later, Fabio stands alone. First, he's pretty silly.
But he can also be serious.
One last photograph and then Fabio has to get to his scout meeting.
*****
When Fabio has left, Izumi once again seeks out the craftsmen to ask how things are going.
"I think we will follow the plan without any problems." Sam replies kindly.
"You and your husband can go on a little excursion and then we can make a new status later today." says Matt.
Izumi can understand that they would rather be free of her interference right now.
"I have a better suggestion than tiring ourselves out with an excursion" Izumi says a bit grimly, while she scans the bedroom with her eyes.
That ends it. They are both tired after an early morning with a stubborn bear. They may well need to sleep.
*****
Afternoon in San Myshuno
Elijah can hear a museum visitor clapping her hands as he descends the stairs to the basement exhibit. That must please him.
Fatima looks around the room. She sees aquariums, blue walls and water art. She has understood that it must symbolize the sea.
There are also several photographs of Jade in a wedding dress. Aphrodite, then?
"I love the décor. It's so peaceful here." she says kindly.
"Perhaps a little boring? You would have looked wonderful down here in a negligee. It would have added some appeal to the exhibition," he replies.
"Ha, ha Elijah! Stop making fun of me." she says flirtatiously.
"I'm completely serious." he answers.
"You're stunning. I can't get enough of looking at you." he continues.
"Stop it Elijah. You're embarrassing me." she says.
"I can't see why you think so?" he says
"Because I'm not used to that amount of flattery." she says.
Maybe she can get used to it? The fact is, she loves it. She feels that she has changed her entire self-perception after starting to look at herself through Elijah's eyes.
*****
They have approached the stairs where there are even more photographs of Jade in white dresses.
They stand side by side in silence. Perhaps more concerned with their thoughts than the pictures on the wall.
Elijah looks towards Fatima as he sees her eyes drifting.
"Are you tired?" he asks.
"I'm a bit tired…It's been a long night. It's probably been a day since I last slept." she says.
"I assume we should go our separate ways now?" he tries hesitantly.
"We might buy a cup of coffee at the bar…I could really use a cup of coffee." she says.
"I've got a coffee machine and cups." he suggests.
"What are we waiting for?!" she exclaims excitedly.
It is the signal for departure and they rush up the stairs.
"It's been interesting." she says kindly.
But there is no time for more conversations….
Soon they are standing in the familiar landing in front of their respective addresses.
They both go into Elijah's apartment.
Right now there will be absolutely no need for the coffee machine.
We will leave them to their sparkling adventures.
*****
Afternoon in Brindleton Bay
Izumi is once again awakened by the terrible nausea. She sees that Rasmus' side of the bed is empty.
Rasmus has gone out into the garden to box on the punching bag.
The walls of the house have been rebuilt and only a little paint is missing on the outside. It's moving forward.
The craftsmen have just eaten their lunch and Izumi talks to Sam about what still needs to be done.
Rasmus knocks on the punching bag.
It is rare that he feels his inherent temperament, but the turmoil in the house makes him tired and irritable.
He misses the soothing waters of Sulani.
"We just need to set up the kitchen and wallpaper the bedroom wall, as well as some exterior paint.
I promise we'll be done tonight." Sam says.
"That sounds wonderful." Izumi says.
After a quick shower, it is time for Rasmus to go to work. He looks forward to leaving the construction mess behind for a while.
Afternoon in Willow Creek
Andy has been whimpering and uncomfortable for the past hour.
He is well fed so he should be happy.
"Please baby. You're fine." Alice says comfortingly.
Allan has just come home from the barracks and they both look for him as he approaches the kitchen.
As always, Andy lights up in a big smile when he sees his father, but Alice is exhausted and heads for the sofa.
Andy whines in displeasure. Maybe his first tooth is coming through?
To Alice's relief, he falls asleep on her lap and she enjoys that she can finally relax.
She looks towards Allan who is thoughtfully eating a leftover.
She is careful not to speak so as not to break the magical calm.
Allan gets up from his seat.
She watches him disappear into the bathroom.
"I am taking a shower." he says into the air.
*****
Twenty minutes later he returns, dressed in casual clothes….which always reminds her of his military attire.
He seems to be obsessed with that career.
Allan approaches to sit next to them on the sofa.
Alice gives the boy a loving look.
"What on TV?" says Allan as he turns it on.
Andy stretches and wakes up at the sound. The silence is broken.
"You absolutely had to wake him up?" says Alice.
"Why isn't he sleeping in his bed?" Allan asks without understanding.
She doesn't answer him but turns her back to lay Andy on the baby playmat.
"He's been so grumpy and restless all day. Why can't you put your own needs aside for once?" she says annoyed.
"What?" he says without understanding where she is going.
"He's just a little boy and your reckless behavior stresses him out." she continues.
"Are you on your period?" He asks in disbelief.
She has heard enough and she gets up and leaves.
Allan looks over at Andy. He doesn't look grumpy at all as he lies babbling to the toy hanging above him.
"Hello little soldier. Shall we do some exercises?" Allan asks kindly.
"Ba-bab-bab." Andy replies attentively.
"Come on, little guy." Allan says as he turns Andy over on his stomach.
From the kitchen, Alice can hear Allan fussing with the boy.
Andy grunts in frustration at the exertion.
What the hell does that man not understand? she thinks annoyed.
Andy is still grumbling.
She goes into the living room to remove a used baby bottle while giving Allan an evil look.
"Well done! That's my boy! You're doing so well." Allan says encouragingly to Andy as he lifts his entire upper body with effort.
"You look like you need a break." Allan says kindly as he flips Andy onto his back.
Andy lies relaxed and looks around the room.
He better take care of Alice now, Allan thinks.
"Hey Alice! Are you ok?" he asks as he approaches the kitchen.
The only answer he gets is the sight of her cold, rejecting back.
He sighs deeply and leaves the room.
Alice feels herself boiling with pent-up emotions.
The last several months of shame over her infidelity and anxiety about what it will mean for her future are eating her up from the inside.
It's like she doesn't really want to allow herself to be happy that things have apparently developed positively and that Allan seems to have accepted her lie.
"Why do you always have to mess with Andy like that? You act like you're still at the barracks, but he's just a little boy and not a fucking subordinate." she says frustrated.
"Stop it Alice! You're turning the boy into a sissy. He's a strong boy who needs challenges." Allan says annoyed.
"You are such a bully." she says viciously.
"What the hell is your problem? I'm going out now." he angrily replies.
Allan leaves the house without saying another word.
He needs to hit something. Hard!
*****
Late afternoon in San Myshuno
"Shouldn't you get your clothes on, Elijah?" Fatima asks him in a tone.
"Or you could get undressed with me?" Elijah suggests cheerfully.
"Nice try Elijah. I remember you promised me coffee." she replies.
"My lady, you shall get what you desire. I'll be with you in a minute." He says as he blows her a kiss.
*****
Fatima feels light and happy as she puts coffee on the coffee machine.
Standing in his very kitchen makes her heart overflow with emotions
"Silly me! I'm obviously hit hard." she says to herself as she pours coffee.
"I'm fully dressed. Are you feeling better now?" he asks with a twinkle in his eye.
She doesn't answer him but concentrates on the coffee while trying to calm her emotional heart.
"Has anyone told you how beautiful you are when you drink coffee?" he asks lovingly.
There, the mission to calm her heart fails as a hundred runaway hearts are released.
"What are you up to Elijah?" she asks seriously.
"With you? Everything!" he says excitedly.
His almost boyish excitement makes her laugh.
"I'm washing the cup." she says as an observation.
Elijah follows her perfectly rounded bottom with his eyes as she walks towards the kitchen sink.
He gets all sorts of dizzying naughty thoughts. The kind of thoughts that are not suitable for the public and certainly not for our innocent readers.
His thoughts are his own and no one can stop him from enjoying what he gets.
*****
"I have this key for you Fatima. I know your living conditions are cramped and you are welcome to use my apartment whenever you need it." he says.
"Oh Elijah. Seems a little early to me…You don't even know all my faults." she replies.
"I've seen what I need to know…Would you please stay here tonight?" he says.
Fortunately, she doesn't seem to have any objections.
*****
Evening at Willow Creek
"Why the hell did you knock over the trash can. What's the point?" Alice asks, shaking her head whereupon she lifts it up.
"Get off my back Alice! Will you please stop tormenting me!" he replies angrily.
Fortunately, Alice seems to understand that it makes the most sense to disappear now.
Allan angrily attacks his Training Bot.
He has fought so hard to get his unruly temper under control and then on one afternoon he feels that all is lost.
He roars loudly and ducks to avoid the Trainings Bot's backlash.
He gives it some angry kicks when he hears Alice coming back.
She looks like she's got a guilty conscience.
"I am sorry Allan. I don't know why it ran away from me… but Andy.. I think he's teething and it's been getting on my nerves all day." she says embarrassed.
"Yeah, I'll take over so you can get some sleep now," he says kindly.
"You don't need to worry so much about Andy's development. He's made of tough stuff…."
"…you know, the boys of my lineage can be quite stubborn." he goes on to explain.
Allan's recurring talk about his lineage causes her to explode in powerlessness over the concealments.
"Damn you, Allan!!!"
"Why do you have to keep preaching about your genes and your stupid lineage." she shouts angrily.
Allan chooses to leave while Alice continues to shout angry abuse at him.
He will have to distance himself from her if he is to keep his composure.
*****
Unfortunately, Alice isn't done yet.
"Why do those damn genes mean so much to you?" she says.
"What? Actually, they don't." he answers evasively.
She should have listened to him by now, but she's so inflamed from months of repressed shame that she continues like a punctured abscess…..
"I should have said this a long time ago, but you don't share a single gene with Andy and that's probably why….."
"DAMN IT ALICE!!" he shouts in shock.
"KEEP YOUR STUPID MOUTH SHUT!!" he roars furiously…..
She gets ready to fight but to her surprise, he seems to collapse as he sends her a tormented look.
"Why the bloody hell can't you just leave it as it is!" he says painfully.
Then he hides his face in his hands. "I know what you've done Alice. I know he's the son of the cream bun. I'm not that stupid." he mourns.
He knows? she thinks, speechless in shock.
"But when? Why haven't you said anything?" she says hesitantly.
"What good would it do?" he asks.
"We'll never talk about it again. Do you hear me." he says.
"Yes, I hear you." she replies. For once, with no desire to offer any counterarguments.
She follows him with her eyes as he walks.
He knows, she thinks with equal parts relief and amazement.
He suddenly looks so composed. Why would it take them so long to get here?
*****
Allan goes straight to the boy in the cot.
Andy's personality has over time drowned out all the signs that revealed his biological parentage.
Allan leans over the cot and strokes Andy's cheek. He grunts contentedly in his sleep and all Allan feels is love for his son.
*****
Alice goes to bed. Exhausted by Andy's grumpiness, her arguments with Allan, the anger, the shame and the sudden redemption. All that is left is silence and emptiness.
Allan starts his yoga training.
He has long since discovered that focusing on the body and the positions helps him to let go of thoughts and anger.
Focus and silence is all that fills him now.
*****
After midnight in San Myshuno
Elijah sits casually on the bed, waiting for Fatima to finish in the bathroom. He relishes the thought of what lies ahead.
First now when Fatima goes back into the bedroom she sees all the pictures of the half undressed Jade.
"It seems a bit strange to me Elijah" she says.
"What is strange?" he asks as he approaches.
"How could you possibly consider yourself gay when you have a wall full of half-naked women?" she asks.
"Gay? What does that even mean? Aren't we all just sentient beings?" he asks philosophically.
"But it must mean something to you Elijah? After all, there is a difference between us, male, female? Attraction, doesn't it exist in your universe?" she says searchingly.
"Absolutely! Personality and radiance mean everything to me. The bodies on the wall are just preliminary studies. An artistic inspiration."
"So that's how you see me? I'm an artistic project." she asks uncertainly.
"You are anything but an artistic project, Fatima. You are my equal, my soulmate, my muse and an irresistibly seductive sensual woman." he says.
"Seductive? You can be that yourself." she says before she has to kiss him.
Again she feels light as a feather as he lifts her up in his strong arms.
"Now my lady, I will carry you to my bed." he says decisively.
How can such a confidential intimacy so suddenly arise between them, she thinks.
"Just carry on." she replies.
In the end, Elijah managed to persuade Fatima to undress herself for him. He is an artist after all.
*****
After Midnight in Willow Creek
Alice has been awakened by Andy's crying.
Allan is fully occupied with his yoga training and on top of the evening's development, she knows better than to make more accusations.
It's the middle of the night, but that doesn't matter when Andy needs a clean diaper.
She sits in the rocking chair with the boy on her lap.
How could she even imagine that she could hide his parentage. She sees Rasmus' gentle face every time she looks at him.
Allan's reaction has surprised her to that extent. How long has he known?
Contrary to what Alice thinks, Allan has actually heard Andy cry and now he has finished his exercises.
When he sees that Alice is breastfeeding Andy, he begins a project he has been thinking about for a long time. He collects a mobile for Andy's bed.
Neither of them feel the urge to argue anymore, but it's like the joint disclosure between them has turned into an awkward silence.
Alice watches Allan's back unable to break the silence.
Allan, for his part, feels just as lost.
Alice looks at him. Andy could use his bed now, but she doesn't dare make the claim.
She takes Andy into the living room to lay him on the baby playmat.
The boy is babbling comfortably and Allan can hear him if he gets displeased.
She is dead tired so she goes back to her bed.
Andy follows the toy above him with his eyes and makes appropriate babbling noises.
Allan is done with the mobile and of course he is sure that Alice is with Andy.
He doesn't want to confront the silence between them, so instead he goes out the door for a run into the night.
*****
Two o'clock in the morning in Brindleton Bay
It is two in the morning when Rasmus comes home after a long day at work.
He can see that there is light in the house.
Izumi is standing in the bathroom, where she has just placed some trinkets and bottles by the sink. She is very satisfied with the result.
Rasmus can cook in his new kitchen for the first time.
Fabio has slept a long time now, but Izumi and he enjoy a late night meal together.
Rasmus looks tired, but now something is happening in the background that requires his attention.
"Shame on you Fie! You mustn't touch the human food!" he scolds.
Fie looks completely confused. It's like the cats that share Fiona's genes are almost untrainable.
Brooke would never make up that kind of rule breaking.
Now Izumi interrupts the bad mood.
"What do you think of the living room Rasmus? Do you like it?" she asks.
It's as if Rasmus's tiredness has clouded his vision until now.
"I love what you've done to our home." he says and kisses her.
It's time for them to go to bed.
"You look tired." Izumi says as she massages his sore neck muscles.
"I am very tired." he sighs.
"It's ok Rasmus. I'm also very tired." Izumi says smiling.
My god, how I love that woman, thinks Rasmus gratefully.
A moment later they are both fast asleep.
*****
Willow Creek almost three in the morning
On his run, Allan notices a small park.
He approaches a bench to rest. He needs to think.
*****
Back home on the living room floor, Andy begins to feel abandoned.
He gradually cries louder and more desperately.
But no one hears his cries for help.
Finally he falls asleep on the playmat. All beings can give up from exhaustion when they are not heard and seen.
*****
Allan sits on the bench and lets his thoughts flow…
He thinks of a conversation he had with his Grand Marshal many months ago. It was back then that he had just realized that Andy was not his biological child.
The Grand Marshal had sought him out on a military matter, and they had greeted each other with a salute as prescribed by etiquette.
Suddenly the Grand Marshal had looked at him seriously. "Is something troubling you Sergeant Minor?" he had asked.
Of course, Allan had initially refused to open up about his personal problems, but then the Grand Marshal had made him talk anyway.
He told of his suspicions about Andy's parentage and of his doubts about what he should do.
"I can see it's bothering you." said the Grand Marshal, but let me tell you a personal story." he had said.
Then he had told about the son he had once had and how he had suddenly died due to unfortunate circumstances. He had also told how it had driven his wife and him apart. They hadn't been able to talk about their son since then.
"I'm sorry to hear that Sir." Allan had replied, unsure what it had to do with his own situation.
"That boy you have. Does he trust you as his father?" the Grand Marshal had asked.
"I believe so, Sir." Allan had replied.
"At least you have a son to take care of. I wish it was me." said the Grand Marshal kindly.
It had changed everything for Allan and he had then properly said salute to his superior.
Suddenly, completely out of etiquette, his superior had grabbed him in a big hug.
"Come on Allan. You remind me so much of myself as a young man. Your temper and your attempt to do everything that is expected perfectly right according to rules and regulations….I'm sure you will achieve amazing things in life and be an amazing father!" said the Grand Marshal.
Since that day Allan had tried never to disappoint him and he had worked hard to pull himself together.
Allan stares thoughtfully at his nails as if that's where he can find answers.
He knows what his Grand Marshal will say. Avoiding confrontation is no solution. In the end, he will have to come face to face with the enemy and fight as best he can for all he holds dear.
He stands up determinedly.
The enemy is the lie and the unsaid between Alice and him and silence is no useful weapon.
Then he runs home. There is a little boy who counts on him and a woman who needs his composed strength. He wants to fight for both of them.
*****
It is almost light when he reaches his home.
To his surprise, Andy is lying alone babbling on the playmat.
"Hey baby boy! I'm with you now and everything is going to be ok." he says.
*****
Author's Note: Disturbed's version of The Sound Of Silence is one of my favorite renditions, showing both rawness, strength and sensitivity in its message that silence kills. I'm actually not sure if I've shared it before, but it bears repeating.
This song is for Allan because he has evolved from being a threatening bully to a true hero over the course of the story. Allan's development may surprise most readers and I can tell you that I didn't even see it coming.
Enjoy ❤
Well I looked back and as I suspected I shared that song recently (chapter 74). I can also see that I have searched all over the world's playlists for songs about fathers and sons. As I find most of them boring or with the wrong message, I chose Sound of Silence once again.
*****
NB: The images for this chapter would not have been possible without the use of some Mods.
I want to highlight More Kisses Mod #3 by marplebell. I've used her Frenzied Kiss Mod for several scenes in this chapter.